What Is Smartsheet?
Smartsheet, an online work execution platform, empowers organizations to plan, track, automate, and report on work. Over 80,000 brands rely on Smartsheet for project and work management because of its easy-to-use interface, real-time gantt charts and dashboards, and work automation features.
*2018 Awards: Named a Leader in Enterprise Collaborative Work Management by Forrester Research, Selected to Deloittes Fast 500 List, Recognized for Technology Innovation & Vision by 451 Research
Who Uses Smartsheet?
Smartsheet's intuitive online project management app is used broadly across organizations to track and manage diverse types of work for teams large and small, from enterprise companies to SMB's.
Where can Smartsheet be deployed?
Cloud, SaaS, Web-based, Android (Mobile), iPhone (Mobile), iPad (Mobile)
About the vendor
Smartsheet
Located in Denver, US
Founded in 2012
Phone Support
Chat
About the vendor
Smartsheet
Located in Denver, US
Founded in 2012
Phone Support
Chat
Smartsheet videos and images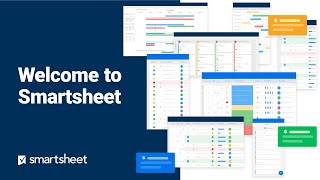 Compare Smartsheet with similar products
Features of Smartsheet
API
Access Controls/Permissions
Activity Dashboard
Activity Planning
Activity Tracking
Ad hoc Reporting
Agile Methodologies
Alerts/Notifications
Analytics
Approval Process Control
Approval Workflow
Asset Tracking
Assignment Management
Audit Trail
Availability Management
Backlog Management
Bar Chart
Bid Management
Billing & Invoicing
Brainstorming
Brand Management
Budget Management
Budgeting/Forecasting
Business Process Automation
CRM
Calendar Management
Campaign Management
Capacity Management
Change Management
Change Order Management
Channel Management
Claims Management
Client Management
Client Portal
Collaboration Tools
Color Codes/Icons
Commenting/Notes
Committee Management
Communication Management
Compliance Tracking
Contact Database
Contact Management
Content Management
Contract/License Management
Contractor Management
Cost-to-Completion Tracking
Create Subtasks
Customizable Dashboard
Customizable Templates
Dashboard
Data Connectors
Data Import/Export
Data Tabulation
Data Visualization
Dependency Tracking
Digital Asset Management
Discussions / Forums
Document Management
Document Review
Document Storage
Drag & Drop
EMR/EHR
Electronic Data Capture
Email Management
Email Reminders
Employee Management
Equipment Tracking
Expense Tracking
Expiration Management
File Management
File Sharing
File Storage
Financial Management
For AEC Industry
For IT Project Management
Forms Automation
Forms Creation & Design
Forms Management
Functions/Calculations
Gantt/Timeline View
Goal Setting / Tracking
HIPAA Compliant
Idea Management
Inventory Management
Issue Management
Job Scheduling
KPI Monitoring
Kanban Board
Lead Management
License Verification
Marketing Calendar
Media Planning
Milestone Tracking
Mobile Access
Multi-Campaign
Online Applications
Patient Management
Patient Records Management
Payroll Management
Percent-Complete Tracking
Permit Management
Physician Management
Portfolio Management
Preventive Maintenance
Prioritization
Process Modeling & Designing
Product Lifecycle Management
Product Roadmapping
Progress Tracking
Project Management
Project Planning
Project Planning/Scheduling
Project Scheduling
Project Tracking
Quotes/Estimates
RFI & Submittals
ROI Tracking
Real Time Notifications
Real-time Updates
Recurring Tasks
Reminders
Remote Access/Control
Reporting/Analytics
Reporting/Project Tracking
Requirements Management
Residential
Resource Management
Resource Scheduling
Risk Management
Roadmapping
Rules-Based Workflow
Scheduling
Search/Filter
Secure Data Storage
Service History
Single Page View
Skills Tracking
Spend Management
Staff Calendar
Status Tracking
Strategic Planning
Surveys & Feedback
Task Editing/Updating
Task Management
Task Progress Tracking
Task Scheduling
Task Tagging
Team Management
Technician Management
Template Management
Templates
Third Party Integrations
Third-Party Integration
Time & Expense Tracking
Time Tracking
Version Control
Visual Workflow Management
Visualization
Web Forms
Widgets
Workflow Configuration
Workflow Management
Judy N.
DEBT RECOVERY OFFICER in Singapore
Verified LinkedIn User
Financial Services, 51-200 Employees
Used the Software for: 2+ years
" Remote Control Access Management System "
Pros:
Ease of deployment and usability. Scheduling and Rescheduling of tasks capabilities. Centralization of teams. Maximum team productivity. Instant online messaging and chatting. Capabilities of projects budgeting and planning. Simple setups and plugins.
Cons:
My organisation and I have to complain since implementation.
Jessica D.
Game Programmer in US
Verified LinkedIn User
Computer Software, 201-500 Employees
Used the Software for: 2+ years
It's simple to monitor progress and simultaneously work on a project
Comments: Implementation and usability simplicity. Tasks can be scheduled and rescheduled. Organization of teams at one place. Achieving the best possible results as a team. Instant messaging and online talking through the internet. Project budgeting and planning capabilities. Plugins and configurations are easy to use.
Pros:
This app's ease of use and ability to manage projects and send updates are fantastic. Easily adjustable and a lifesaver when it comes to streamlining the way work gets done and keeping track of individual tasks. It is a more business-oriented variant of the other spreadsheet applications. Templates might also be useful.
Cons:
My wish is that reminders and automatic emails based on task management/workflow would be sent. It has been a while since I used this, so things may have changed. This would be a significant advancement in the software's capabilities.
Verified Reviewer
Product Owner in Australia
Verified LinkedIn User
Computer Software, 51-200 Employees
Used the Software for: 6-12 months
Alternatives Considered:
Smartsheet, a project management tool!
Comments: Overall, Smartsheet was a good option while overall project tracking and management. It helps us to manage the budget and keep records of expenses. It also assisted in KPIs management for the teams.
Pros:
It is easy to manage the timeline, milestone tracking, budget and expense tracking. When it comes to reporting, it is way more classy than any other tool in the market. We can select and show data from different sheets to represent. Smartsheet help different teams collaborate, manage, and report on the project(s) in real-time.
Cons:
While creating tasks, it is not that interactive like other competitors in the market. Not that much friendly to manage and track tasks and bugs.
Melissa H.
Game Developer in US
Verified LinkedIn User
Computer Software, 1 001-5 000 Employees
Used the Software for: 2+ years
Keeps us on track with our projects
Comments: People who already know Excel will like the ease with which they can get started, but if they're willing to dive further, they'll find many more useful advanced capabilities like automation. It has a lot of power. The preconfigured templates are excellent for getting you up and running quickly. The forms are simple to create and distribute. There is a significant amount of manual labor eliminated by the workflow automation. The design of the dashboards is superb.
Pros:
Using Smartsheets is the best way for me to keep track of my progress, interact with my clients, and make my work visible to my boss. Tracking progress and keeping track of projects and todos has been a big help to me with the aid of Smartsheet. Increasing the level of transparency for the company's top brass as well as its customers.
Cons:
There isn't anything I don't like about Smartsheet at this stage in our journey. We've only scratched the surface of what Smartsheet can achieve for our teams, but the value and efficiency it's provided us go well beyond what a shared spreadsheet or file could ever provide.
Kathy H.
Vendor Income Expert in US
Retail, 10 000+ Employees
Used the Software for: 1+ year
Smart Technology
Comments: Smartsheet definitely is very smart! It's a very powerful collaboration tool. You can customize forms to send to other. You can set up notification/reminders to others. However, Smartsheet is not so user-friendly. It's an intricate system that takes time to learn. However, once you take the time to learn it, you'll love it!!!
Pros:
In my line of work, I have to send forms to vendors. They submit the terms that they agree with Target. I also have to document their terms. I love that it's so easy to customize forms in Smartsheet. Vendors and key partners also really like the looks of Smartsheet forms too. I also like that Smartsheet organized data from submission forms into a nice master grid. Another functionality that I love is the workflow automation. I'm able to set notification and reminder on when key partners need to approve vendor forms in Smartsheet.
Cons:
Smartsheet provide a very nice, clean form for vendor to submit their terms. However, there is no function to send a copy of the SAME form once the form had been submitted. When vendor sask me to send the a copy of the forms they submitted, Smartsheet isn't able to generate the form in the original format. Smartsheet just generate a simple grid of the submitted data/terms. It would nice if Smartsheet can generate the submitted form in the SAME/original format of the form that I created in Smartsheet.