What Is mHelpDesk?
mHelpDesk is the #1 easiest and most powerful software solution for your field service business, automating everything from first customer contact all the way to getting paid. We provide our customers with mobile and online tools that are unmatched in performance, reliability, and functionality. We've packed the best tools into one extremely easy-to-use and affordable package that requires no big upfront investment. And we have in-house product experts to get you up and running immediately.
Who Uses mHelpDesk?
mHelpDesk is perfect for established and growing small/medium businesses who need better organization, mobile access, and more efficient scheduling and billing processes.
Where can mHelpDesk be deployed?
Cloud, SaaS, Web-based, Mac (Desktop), Windows (Desktop), Linux (Desktop), Android (Mobile), iPhone (Mobile), iPad (Mobile)
About the vendor
mHelpDesk
Founded in 2009
Phone Support
Chat
Countries available
Canada, United States
About the vendor
mHelpDesk
Founded in 2009
Phone Support
Chat
Countries available
Canada, United States
mHelpDesk videos and images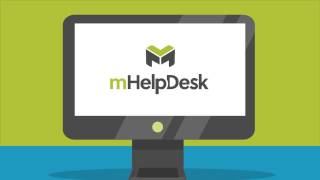 Compare mHelpDesk with similar products
Features of mHelpDesk
Access Controls/Permissions
Accounting Integration
Activity Dashboard
Activity Tracking
Add & Edit Photos
Alerts/Notifications
Appointment Scheduling
Approval Process Control
Asset Tracking
Automated Quoting
Automated Scheduling
Automatic Time Capture
Billing & Invoicing
Business Process Automation
CRM
Calendar Management
Calendar Sync
Client Management
Comment Library
Configuration Management
Contact Database
Contract/License Management
Cost Database
Cost Tracking
Customer Database
Customer History
Customer Management
Customizable Branding
Customizable Fields
Customizable Reports
Customizable Templates
Data Import/Export
Data Visualization
Discount Management
Dispatch Management
Document Management
Drag & Drop
Electronic Payments
Electronic Signature
Email Management
Employee Database
Employee Management
Employee Scheduling
Equipment Management
Equipment Tracking
Estimating
Facility Scheduling
Financial Management
Fixed Asset Management
Fleet Management
For Commercial and/or Industrial Electrical Contractors
Forms Management
GPS
IT Asset Management
Incident Management
Inspection Management
Intake Management
Inventory Auditing
Inventory Control
Inventory Management
Inventory Optimization
Invoice Management
Job Costing
Job Management
Job Scheduling
Maintenance Management
Maintenance Scheduling
Mobile Access
Mobile Alerts
Mobile App
Mobile Signature Capture
Multi-Location
Online Booking
Online Time Clock
Online Time Tracking Software
Payment Collection in the Field
Payment Processing
Preventive Maintenance
Pricing Management
Project Management
QuickBooks Integration
Quotes/Estimates
Real Time Data
Real Time Reporting
Real-time Scheduling
Recurring Appointments
Release Management
Reminders
Repair Tickets
Report Summary
Reporting/Analytics
Residential Inspections
Routing
Scheduling
Self Service Portal
Service Catalog
Service History
Service Level Agreement (SLA) Management
Supplier Management
Task Management
Technician Management
Templates
Third Party Integrations
Ticket Management
Time & Expense Tracking
Time Tracking
Vendor Management
Work Order Creation
Work Order Management
Workflow Configuration
Mark J.
CEO in US
Verified LinkedIn User
Used the Software for: 1+ year
Our experience has been extremely positive. No other company would go this far for a customer.
Comments: We are completely cloud-based, completely mobile, our response time has decreased and profits have increased. We have found a vendor/partner that listens. We truly have an integrated product from end-to-end. Service calls/requests for quotes come in, an excellent work product goes out, seamlessly.
Pros:
The field app is very strong and that is a must. The admin provides a true workflow experience. The software is as flexible as it can be, provides true integration to QB, and has cut our entry time in half. Our profits are up and communication is vastly improved. The cloud feature fits our Disaster Response plan. Their customer service is the best I have seen and we have tried many.
Cons:
Very little to dislike. They are always improving. I would like to see an inventory module, and Ajax searches would be a real improvement. But overall, they are the "best-in-class".
mHelpDesk Response
4 years ago
Thank you for sharing your thoughts on mHelpDesk Mark! We are so happy to work with you and VIALARM.
Information Technology & Services, 2-10 Employees
Used the Software for: 2+ years
Alternatives Considered:
Field Service Software for any Business to Stay Organized
Comments: Overall I have had a really good experience, anytime I have ran into a problem which is not very often but my problems have been resolved in a professional and expediential matter that allowed my business to continue to operate. You can keep an open line of communication with your customers on work order status or any problems that arise during the work order.
Pros:
You are able to automate your business to keep a customer database, schedule and track work orders. Billing is a breeze with in the email feature you send to your customers. They can pay directly with PayPal or Credit Card account. There is even a feature to generate leads to your business. You can customize your invoices and work orders to meet your business needs. Works on mobile Apps and integrates all your invoices to quick books.
Cons:
When customers pay from your credit card account, you are only able to setup and activate one payment option at a time. It would be nice to have individual bank accounts set for different sections of your business model.
Construction, 51-200 Employees
Used the Software for: 2+ years
Functional and reliable product with ZERO updates
Comments: It's been OK. We are still using it but we are actively looking for a replacement. Of course once you invest in a product it's painful to rip it off and go with another (despite being necessary). They know this and that might be part of why they are totally complacent.
Pros:
I like the simplicity of it. It's very simple to use and it works as expected. If your goal is to schedule jobs, create quotes, schedule estimates, and push invoices over to quickbooks it works just fine. It also has a mobile app that is sufficient for basic functionality.
Cons:
We've been using this product for over 2 years and they haven't made one single solitary update. Zero. Not one addition to the software. In other words, they appear to have absolutely no ambition whatsoever to make the system better. No doubt this is an organizational decision. If you're looking for a very basic product that works well for what it does, mhelpdesk is fine. If you're looking for a product that will grow with you then it absolutely is not. This product is going nowhere. They have absolutely no decent way to manage memberships. The system freezes up semi-frequently (although thankfully we've never had an extended downtime) The building of estimates is very basic and you have no way of building in multiple options within the same estimate. It's very plain jane. It always will be. There are manifold bugs and usually the bugs will last for months and months and sometime once they happen they never get resolved. For example: - I can no longer export a customer list from the software. I doubt they will resolve this despite the repeated tickets. - You can no longer drag and move items around on a quote when you're using google chrome. It only works if you're using Safari. The problem is virtually nothing in the product works with Safari so you have to login just to do that one task and then go back to Chrome for everthing else. - You have to click save more than once in certain workflows in order for the page to actually save.
Maurice L.
Managing Director in UK
E-Learning, 11-50 Employees
Used the Software for: 6-12 months
There Is A Requirement To Seep Up The System.
Comments: When I decided to migrate to an online, cloud-based system that would help us manage our firm more efficiently, I looked at a number of options. I had a chance to speak with a couple of them. I wanted to deal with a smaller company that could provide excellent service and grow with us. MHelpdesk has made my life a lot easier. We run a home painting company, and having all of our information in one location has been quite beneficial. We are still in the process of transferring everything, but at our own pace. My advice to anyone considering this is to take the jump, sign up for the 30-day trial, and give it a shot. Take it for a minimum of three weeks to see how it works. You won't want to return to the never-ending spreadsheets. I understand that there are larger organizations in this field, but they will not treat you as well as these folks.
Pros:
The customizability options for generating estimates and invoices are fantastic. The ability to build a price list simplifies invoicing in the field by allowing you to simply add a pre-worded/priced line item to the invoice. Collecting payments is equally simple, thanks to the possibility of emailing an invoice to a customer, who can then click a link and pay with a credit card.
Cons:
The one thing we'd want to see modified is the ability to schedule a work order by selecting a project name. At the moment, you can only choose a site's parent name. Because not all parent names correspond to site names in our field, determining the correct parent and site name can be difficult at times. It would be helpful if you could add by site parent name or exact site location.
Industrial Automation, 2-10 Employees
Used the Software for: 2+ years
Alternatives Considered:
mHelpDesk
Comments: Always have a great experience when dealing with customer service. I have been helped in a very timely manner with any issues that would pop up.
Pros:
I like that it is easy to use and was easy to setup. The flow of the customer account is good.
Cons:
I do not like the reporting. It is not the easiest reports to pull and when you do, sometimes does not make sense. However, I have not used the reports enough to say they are unworkable.
mHelpDesk Response
3 years ago
Rita, thank you for sharing your comments. We're happy to hear that the product is working for your business and that the Customer Support team has been helpful. We'll pass your feedback about the reporting to the product and engineering teams. Thanks for being a customer!