What Is BizAway?
BizAway is the best solution to manage business travel in a simple and transparent way. With BizAway, companies can have their business trips under control, optimizing their resources thanks to a simple yet very intuitive interface, 100% adaptable to every different need, keeping all billing and costs under control, with incorporable travel policies and automated approval processes. Savings in time and rates (on average 20% cheaper than the competition) and a multilingual in house 24/7 support.
Who Uses BizAway?
BizAway offers companies (regardless of their size) the possibility of booking and managing their business trips with a single click. Some of our clients are BDO, Telepass, Autogrill, AndBank...
BizAway videos and images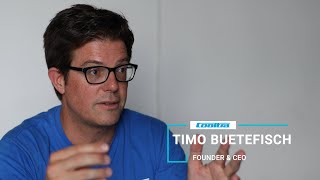 Compare BizAway with similar products
Starting price
N/A
US$9,00/month
US$5,00/month
US$8,00/month
BizAway deployment and support
Support
Email/Help Desk
FAQs/Forum
Knowledge Base
Phone Support
24/7 (Live rep)
Chat
Deployment
Cloud, SaaS, Web-based
Windows (On-Premise)
Linux (On-Premise)
Android (Mobile)
iPhone (Mobile)
iPad (Mobile)
Training
In Person
Live Online
Webinars
Documentation
Videos
Jose R.
CEO in Spain
Verified LinkedIn User
Sports, 11-50 Employees
Used the Software for: 2+ years
Super easy to manage all travels for my team
Comments: In my case, for a small/medium business, they are my perfect partner to solve all travel topics in one site and save time and money.
Pros:
Saving a lot of time booking for different members of my team and myself. And also saving money.
Cons:
Nothing. All looks good. And the user experience improving every day.
Giovanni M.
Operations Manager in Italy
Leisure, Travel & Tourism, 51-200 Employees
Used the Software for: 6-12 months
Alternatives Considered:
Non solo un ottimo Software, ma anche un ottimo Partner
Comments: Esperienza positiva, dall'inizio alla fine, dalla parte di studio all'integrazione all'utilizzo quotidiano.
Pros:
BizAway è semplice, intuitivo ed estremamente flessibile. Si adatta a molte applicazioni diverse e se le funzionalità che servono non sono native, il team fornisce un supporto eccellente per trovare la soluzione giusta.
Cons:
Ci sono state alcune parti di UI da sistemare nelle funzionalità sviluppate in maniera Custom. In ogni caso il team è sempre stato di supporto a venire incontro alle nostre esigenze. La parte di Travel Risk Management potrebbe essere integrata con informazioni di rischio delle varie località e la sezione delle Travel policy sarebbe ottimo se fosse esportabile così da poter fare dei controlli periodici sulle limitazioni inserite.
Ilaria B.
Travel Buyer in Italy
Leisure, Travel & Tourism, 51-200 Employees
Used the Software for: 1-5 months
Una soluzione per le trasferte aziendali
Comments: Lo utilizzo da poco ma finora sono soddisfatta!
Pros:
- Il fatto che ogni dipendente possa cercare in autonomia le sue soluzioni di viaggio e non più dipendere da altri colleghi. -La piattaforma di facile utilizzo
Cons:
- Inserirei la sezione bus nella home per evitare sempre di fare una richiesta speciale - Inserirei la possibilità di dividere i campi personalizzabili in base ai gruppi, per un azienda come la nostra serve differenziare diversi prodotti e relativi budget in base a chi viaggia
Riccardo M.
Chairman in Italy
Computer Software, 11-50 Employees
Used the Software for: 1+ year
BizAway best travel mgmt software
Comments: Eccezionale
Pros:
Facilita d'uso e funzionalità evolute. Prezzo molto conveniente
Cons:
Nessun difetto evidente - siamo estremamente soddisfatti
Martina C.
Travel manager in Italy
Civil Engineering, 1 001-5 000 Employees
Used the Software for: 2+ years
Un partner/collega più che un fornitore
Comments: Un'unica fatturazione da controllare, gli hotel vengono pagati da me e non dall'utente con sicurezza e minor incomprensioni (con altri siti non si capisce esattamente se il pagamento è andato a buon fine, sono necessari anticipi di cassa per pagare l'hotel), minor tempo amministrativo, comodità e chiarezza per i viaggiatori, maggior risparmio investito quindi in qualità del servizio
Pros:
Bizaway è economicamente vantaggioso soprattutto per quanto riguarda le prenotazioni di hotel, è molto comodo nel caso dei biglietti dei treni per viaggi internazionali perché con un'unica operazione si acquista le multitratte da più compagnie. Nel caso di consulenze, viaggi o servizi speciali bizaway offre una chat con persone che sono pronte ad aiutare. Bizaway però non è ad uso esclusivo, può essere usata contemporaneamente ad altri servizi/portali/siti a seconda della convenienza. La fatturazione è unica, quindi molto più veloce da controllare
Cons:
Inizialmente ci sono stati problemi nel format delle fatture, la nostra amministrazione si è interfacciata con l'amministrazione di bizaway risolvendo e proponendo una soluzione comoda ad entrambi