What Is Seald?
Seald offers an embedded protection for documents, ensuring confidentiality, tracking and control for each document, even when sharing and copying.
Who Uses Seald?
CIOs/CISOs, CFOs, CHROs, DPOs, compliance/risk managers and legal professionals, but also consulting, manufacturing, medical, real estate, banking, finance and insurance businesses.
Where can Seald be deployed?
Cloud, SaaS, Web-based, Mac (Desktop), Windows (Desktop), Android (Mobile), iPhone (Mobile), iPad (Mobile)
Countries available
France
Languages
Not provided by vendor
Countries available
France
Languages
Not provided by vendor
Seald videos and images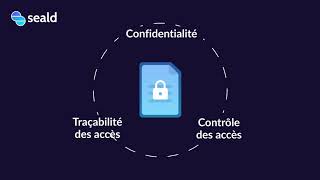 Compare Seald with similar products
Starting price
N/A
N/A
US$625,00/month
N/A
Seald Features
API
Access Controls/Permissions
Activity Dashboard
Activity Tracking
Alerts / Escalation
Alerts/Notifications
Approval Process Control
Archiving & Retention
Audit Management
Audit Trail
Automated Routing
Change Management
Compliance Management
Corrective and Preventive Actions (CAPA)
Customizable Branding
Customizable Reports
Customizable Templates
Data Import/Export
Digital Signature
Document Automation
Document Management
Document Review
Document Storage
Document Templates
Drag & Drop
Electronic Signature
File Management
Forms Management
Full Text Search
Incident Management
Multiple Format Support
Periodic Review
Quality Control
Real Time Data
Real Time Notifications
Real Time Reporting
Reminders
Reporting & Statistics
Risk Assessment
Role-Based Permissions
Rules-Based Workflow
Search/Filter
Secure Data Storage
Supplier Management
Task Management
Third Party Integrations
Traceability
Training Management
Version Control
Workflow Management
---
Reviews by company size (employees)
<50
51-200
201-1 000
>1 001
Verified Reviewer
Regional Sales Manager in France
Verified LinkedIn User
Computer Software, 201-500 Employees
Used the Software for: 6-12 months
Très bon outil
Pros:
Le support et le sérieux des équipes. Les fonctionnalités également.
Cons:
Rien de particulier sur cet outil. globalement cela répondait à nos besoins
Hilaire L.
Operating partner startup in France
Banking, 1 001-5 000 Employees
Used the Software for: 1+ year
Enfin la securité sans la perte de confort d utilisation
Comments: Tres confortable, simple a l installation et a l usage
Pros:
Seald me permet de securiser simplement mes document sensible, de les tracer, de suivre les acces en s integrant SANS ME DERANGER dans mes applications et mes workflows ...enfin des gars qui comprennent que tout le monde n est pas un rssi
Cons:
Il y a encore des applications avec lesquelles ils pourraient s integrer
Verified Reviewer
Ingénieur d'affaires in France
Verified LinkedIn User
Computer & Network Security, 51-200 Employees
Used the Software for: Free Trial
Adopté!
Pros:
Simple d'utilisation Efficace Rapide ne ralenti pas les process
Cons:
Rien noté pour le moment A voir au fur et à mesure
Clovis V.
Business & Development Manager in France
Marketing & Advertising, 51-200 Employees
Used the Software for: 1+ year
Seald est clef pour mon entreprise !
Comments: Seald est facile à utiliser et me permets de sécuriser les projets transformants et confidentiel de mon agence et de mes clients.
Pros:
Seald est facile à prendre en main et me permets de garder le contrôle sur mes documents sensibles. La solution est clef au bon fonctionnement de mon entreprise.
Cons:
Je n'ai pas de retour négatif concernant Seald.
Logistics & Supply Chain, 51-200 Employees
Used the Software for: Free Trial
Clément PRETRE
Comments: Excellente solution, parfaitement adaptée à nos besoins. Mise en place simple et professionnelle.
Super équipe
Pros:
- Simplicité d'utilisation - Equipe hyper réactive - Fiabilité de la protection
Cons:
- Temps d'adaptation qui reste cependant tout à fait raisonnable car support très disponible