Who Uses Gurucan?
Solopreneurs and SMB online businesses that care about their online brand and student's learning experience. Gurucan mobile apps are modern, sleek and highly customizable.
What Is Gurucan?
Gurucan is a 7-in-one platform for knowledge commerce.
With Gurucan creators launch courses, run webinars, sell memberships, or even create their own mobile apps.
Here are 7 features that make businesses switch to Gurucan:
1. Online course builder
2. Video CDN and piracy protection
3. NEW: White Label Mobile Apps Builder
4. Webinars, live sessions
5. Payments and analytics
6. Marketing automation and pipelines with emails and PUSH notifications
7. Quizzes and homeworks
Gurucan Details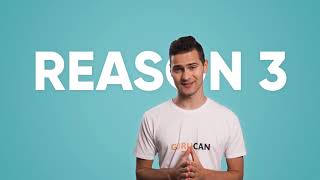 Play
Compare Gurucan with similar products
Starting price
US$26,00/month
N/A
N/A
US$4,00/month
Gurucan deployment and support
Deployment
Cloud, SaaS, Web-based
Android (Mobile)
iPhone (Mobile)
iPad (Mobile)
Gurucan Features
API
Academic/Education
Activity Dashboard
Activity Tracking
Assessment Management
Assignment Management
Asynchronous Learning
Blended Learning
Built-in Course Authoring
Certification & Licensing
Certification Tracking
Compliance Management
Compliance Tracking
Content Library
Content Management
Corporate/Business
Course Authoring
Course Management
Course Tracking
Customizable Branding
Customizable Reports
Employee Portal
Gamification
Gradebook
Learner Portal
Learning Management
Learning Paths/Tracks
Mobile Learning
Multi-Language
Performance Metrics
Progress Reports
Progress Tracking
Reporting & Statistics
SCORM Compliance
Self Service Portal
Self-Learning
Single Sign On
Skills Assessment
Skills Tracking
Social Learning
Surveys & Feedback
Synchronous Learning
Talent Management
Tests/Assessments
Third Party Integrations
Training Management
User Management
Video Conferencing
eCommerce Management
eLearning Companies
Robert C.
Owner
Marketing & Advertising, 2-10 Employees
Used the Software for: 1-5 months
Overall Rating

Ease of Use

Features & Functionality

Customer Support

Value for Money

Likelihood to Recommend
Reviewer Source

Reviewed on 2021/03/09
"What You Need Now & What You Will Need Tomorrow"
Comments: It has been great from the beginning as support was there to answer question before I even purchased and has been there every step of the way when I've needed them since. I've had the pleasure of attending a Q&A and talking with [SENSITIVE CONTENT HIDDEN] and have gotten into detail with some of their future plans (available in their public roadmap). Right now this software is what I need to get going today but I can see the expansion and growth planned that will make it a powerful tool for tomorrow.
Pros: The software is one of the easiest to use in my opinion. It's very intuitive and I've already recommended it to some of our clients who have tried it and that's the same comment I get back..."It's so easy". When you're running a company and want to offer courses as one of your main goods, having to spend months creating content (especially if you do videos with editing) is already time consuming. Gurucan makes it easy to take all your pieces and make the final course you want to sell.
Cons: I wish there were more design aspects we could control and a more robust GUI. I'd love to see something similar to what GetResponse or Mailchimp offers. What would be the most amazing is to get a WordPress style editor like Elementor or Divi or anything similar so we could make amazing emails, completely customized landing pages and so much more.
Reviewer Source

Reviewed on 2021/03/09
Yann I.
Consultant
Online Media, Self Employed
Used the Software for: 1-5 months
Overall Rating

Ease of Use

Features & Functionality

Customer Support

Value for Money

Likelihood to Recommend
Reviewer Source

Reviewed on 2021/02/19
"THE online platform for all of my courses and teaching resources"
Comments: So far, I'm really satisfied with my experience with Gurucan. I finally have a platform I can use to house all of my courses, memberships, etc... and I've seen in the roadmap that there are more options coming – like the ability to sell eBooks and similar. The platform has a lot to offer and I'm sure that, with a few tweaks and addition, is going to become a name you'll be hearing over and over again in the LMS and online course platform space.
Pros: There are a few things I really like about Gurucan. Firstly, the fact that it enables you to create and sell a wide variety of products, such as courses, challenges and membership sites, as well as host webinars. I had been using different platforms to offer each of them, so it was great to be able to gather everything "under the same roof". Another thing that, in my opinion, make Gurucan stand out is its smartphone app. How cool does it feel to be able to offer access to a course, membership site, etc. through an actual app?? And you don't need to be a coding wizard in order to be able to use the app – or the Gurucan platform overall, for that matter! Speaking of hosting everything on one platform, many learning management systems and platforms give you the option to send emails to students...but set up actual automation that are triggered once certain parameters are met? Very useful! And since most people, nowadays, have a smartphone, Gurucan's chat feature will make sure that each message we want to send to students is seen and open (since you can send push notifications too).
Cons: Gurucan is a growing platform so I'm sure that these two points will be addressed soon. First, the fact that you need to create various elements – for example a course, an offer, a chat for the specific course and a landing page – separately. It would be great if Gurucan would enable you to just create an element, let's say a course, and choose to automatically create everything else (offer, chat, etc.) for it. The second point that I'm sure will be worked on quite soon is the limited course and landing page builder. I think that certain features, like the ability to add columns to a section, should be included.
Reviewer Source

Reviewed on 2021/02/19
Sarah K.
Owner
Online Media, 2-10 Employees
Used the Software for: 1-5 months
Overall Rating

Ease of Use

Features & Functionality

Customer Support

Value for Money

Likelihood to Recommend
Reviewer Source

Reviewed on 2021/08/06
"Like buying 4 different software tools in one"
Comments: Really great. Looking forward to publishing the course.
Pros: So - in my day job I create e-Learning. Put me in front of Adobe Captivate or Articulate Storyline and I am totally at home. But then I decide to create a course in my spare time. What could go wrong?
Well - to start with the course creator software I tried was super expensive, with monthly fees, or scarily limited features. I managed to land on Thinkific... But knew I needed to upgrade before the course was released...
And then once you get the course, you are going to need a funnel (have you seen the cost of clickfunnels per month?). With a landing page and payment options. And a email marketing tool. And something to run webinars.
Gurucan does all that, and it's just paying one price instead of multiple monthly costs. And there's an app too.
And I don't have the time or the bandwidth to try to learn/remember/explain to people the 5 different tools that are all precariously linked together to make my course work.
I'm officially impressed.
Cons: Ok - the UI could be improved. It's just slightly too simple sometimes.
I would love if it included feedback surveys - has quizzes, but they are more like right or wrong - doesn't allow for the users to submit paragraphs of free text.
It does webinars - would be good if that functionality could be included to create videos inside courses (screencapture, voice recording or even just voice recording aligned with a downloaded presentation)- I think this may be possible with a workaround (and can always record it using other tools, but I'm feeling spoilt by doing it all in one place)
Reviewer Source

Reviewed on 2021/08/06
Joypreet singh A.
Partner
E-Learning, 2-10 Employees
Used the Software for: Free Trial
Overall Rating

Ease of Use

Features & Functionality

Customer Support

Value for Money

Likelihood to Recommend
Alternatives Considered:
Reviewer Source

Reviewed on 2021/05/22
"Asthetic appeal and functionality missing especially when reviewing content."
Comments: At the outset, I actually though that for a start-up like ours this could be a solution but with my experiences on the website and the support I got it would have been nightmarish to have purchased their services and not be able to take my business online because of the lack of support that is quick and effective. In order for a customer to see value, their specific needs have to be addressed not on a public forum but on a one-on-one 10-15 minute meeting telling them what is and what's not possible on your software. But this is probably just the beginning for team GURUCAN and they'll iron out these issues in due course of time. I wish them the best of luck and would be willing to spare time should someone want to get on a zoom call and talk to me :-)
Pros: A good thought through design for an e-learning app/website. Things like payment, feedback, user database with customizable and user-action triggered emails have been incorporated.
Cons: 1. The content at times goes missing and with little support available, it's very disheartening to work on everything all over again - they seriously need to ask people to have a word back-up simultaneously. 2. The online school page is a great idea but there are very limited options to the look of that page. In the age where websites like wix.com give you fantastic options, we have font type, font size and variety limitations in rich text. 3. Even after providing the API keys for Open Bank which was the reason I got to know about Gurucan - nothing happens, it doesn't say "you're all set". So, a preview doesn't show you anything. again, very disappointing if you've gone the whole nine yards to link it to a payment gateway. 4. There is no provision for a timed and typed-out test. The 'workout' section gives you the functionality but wants you to upload a video. Do I seriously want to record a video of a single PPT slide with a question for 10 mins while the student attempts the test - this is what we call a 'jugaad' in India but it isn't very practical. 5. The course cover page and the transitioning between lessons isn't very smooth as compared to other video-hosting e-learning sites like futurelearn, canvas, etc. I mean the whole look and feel needs to be a lot better. 6. There's lack of a customizable user registration form - like a google form integration and many more things. There's no one on one customer interaction....and I'm not allowed to write any more....wow!!!
Reviewer Source

Reviewed on 2021/05/22
Verified Reviewer
Career Coach and Educator
Professional Training & Coaching, Self Employed
Used the Software for: 1-5 months
Overall Rating

Ease of Use

Features & Functionality

Customer Support

Value for Money

Likelihood to Recommend
Reviewer Source

Reviewed on 2021/05/25
"Building toward something really great"
Comments: My experience has overall been a positive one! My students like the user experience and I'm excited to be a newer user of the platform, and experience its growth in this market. There are missing elements, so whether this platform will make sense for my business long-term -- or for yours -- will depend on the specific features I need and where else I can get them.
Pros: My students really like the mobile app, and that was an important feature for me -- I know that optional online professional development will likely have a higher take-up rate if a platform is readily accessible via mobile devices. Support is responsive and the Facebook group is helpful too.
Cons: This is a newer platform, and there are issues and kinks to be worked out; some of them already have in the 3 months I've been a user. The main challenge for me has been learning the software. Some of the elements aren't intuitive and it's taken trial and error to figure things out. I think there's a lot of promise in this platform, but it's not delivering fully yet.
Reviewer Source

Reviewed on 2021/05/25