What Is Froged?
FROGED is a one-stop shopping Product Success Platform built by a SaaS company for SaaS companies.
Our platform allows brands access to their entire customer lifecycle: Onboarding, Engagement, and Proactive Customer Support. By connecting the dots within the customer journey brands can personalize the customer experience at every touch point increasing overall MRR and retention.
Try FROGED for FREE today!
Who Uses Froged?
If you are an SMB looking for one adaptable tech platform that improves onboarding, increases retention & engagement and provides proactive customer support than FROGED's robust tool is a must.
Where can Froged be deployed?
Cloud, SaaS, Web-based, Mac (Desktop), Windows (Desktop), Chromebook (Desktop), Android (Mobile)
About the vendor
Froged Technologies
Founded in 2019
Chat
Languages
Basque, English, European Portuguese, Spanish
Froged pricing
Starting Price:
€79,00/month
Yes, has free trial
Yes, has free version
Froged has a free version and offers a free trial. Froged paid version starts at €79,00/month.
Pricing plans
get a free trial
About the vendor
Froged Technologies
Founded in 2019
Chat
Languages
Basque, English, European Portuguese, Spanish
Froged videos and images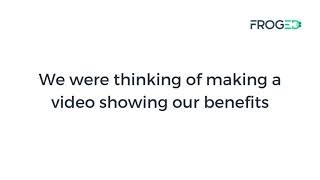 Features of Froged
Account Management
Activity Dashboard
Activity Tracking
Alerts / Escalation
Alerts/Notifications
Auto-Responders
CRM
Chat/Messaging
Collaboration Tools
Commenting/Notes
Communication Management
Complaint Monitoring
Customer Database
Customer Engagement
Customer Experience Management
Customer History
Customer Segmentation
Customizable Branding
Customizable Forms
Customizable Templates
Dashboard
Email Management
Engagement Tracking
Feedback Management
Geotargeting
Interaction Tracking
Knowledge Base Management
Knowledge Management
Live Chat
Macros/Templated Responses
Mobile Access
Multi-Channel Communication
Multi-Channel Data Collection
Multi-Language
NPS Survey Structure
NPS of Customers
Negative Feedback Management
Offline Form
Onboarding
Performance Metrics
Proactive Chat
Process/Workflow Automation
Queue Management
Real-time Consumer-facing Chat
Reporting/Analytics
Self Service Portal
Support Ticket Management
Survey/Poll Management
Surveys & Feedback
Third Party Integrations
Ticket Management
Transcripts/Chat History
Transfers/Routing
Usage Tracking/Analytics
Website Visitor Tracking
Widgets
Workflow Configuration
Roberto R.
CEO in US
Verified LinkedIn User
Hospital & Health Care, 2-10 Employees
Used the Software for: 1-5 months
Great for tracking and understanding users, leads and website visitors
Comments: I have a SaaS and I'm always looking for tools to help me manage and understand my users, so this is a perfect tool for me. I'm extremely happy with the support team. They always respond quickly and are very helpful.
Pros:
First of all, the UI is super clean, intuitive and simple to navigate. With the Javascript SDK you can basically feed any type of data from your app, do dynamic tagging, add custom attributes, setup event tracking, and then with the Dynamic and Manual Segmentation you can do pretty much anything you want.
Cons:
Native mobile app is not yet where it needs to be, but they are working on a new version.
Ismael L.
CMO & CPO in Spain
Sporting Goods, 11-50 Employees
Used the Software for: 1+ year
Like Intercom, but better
Pros:
Froged combines all the good things of Intercom but without all those strange inconvenients of Intercom. Actually we moved from Intercom to Froged and we really notice the change for the better. It is a great powerfull tool to improve the marketing automation and the relations with customers.
Cons:
It is not a real con, but in our case we are a B2C company and this tool is clearly focused on B2B companies, nor ecommerces.
Alternatives Considered: Drift
Reasons for Choosing Froged: We decided to switch off Intercom and move to Froged because we found some limitations to improve email automation scenarios and it was complicate to predict the amount of the next bill.
Switched From: Intercom
Reasons for Switching to Froged: We chose Froged over other alternatives because to customer service. We scheduled a demo with each one of those tools and we really appreciated the customer support Froged gave us.
Santino M.
Student in Jamaica
Education Management, 1 001-5 000 Employees
Used the Software for: 6-12 months
Froged Review
Pros:
Froged is very easy to set up and navigate. The UI is very aesthetically pleasing. Updates have made the platform progressively better overtime.
Cons:
The mobile app is buggy, apart from this I expect the platform to grow in the coming years.
Internet, Self Employed
Used the Software for: 1-5 months
Great Functionalities Better For Deep Integrations
Comments: The experience so far is great. They are constantly improving the tools and have great support.
Pros:
I love personalized marketing. Froged allows you to create customer support, customer experience, and marketing automation workflows with personalization in mind. The team behind is working hard. They often release updates and are open to getting feedback. That's how you built a winner.
Cons:
In order to get the most out of the tool, you need a developer to integrate it with your own saas platform. There is nothing wrong with this but would prefer an easier way. My app is not an app with thousands of users. I would like to easily see what each one of the active users is doing. This is possible with Froged, but it's hard to understand the data from a sales and marketing perspective at a glance. There is nothing wrong with the view Froged offers, so please note that my use case it's probably different from what their average users need.
Alternatives Considered: tawk.to and Intercom
Reasons for Choosing Froged: We still use tawk.to for our public-facing website because it is easier to understand what's going on in real-time in order to see what people are reading about and then interact with them proactively. But use Froged for the user-facing pages because it is better for support and user engagement.
Switched From: tawk.to
Reasons for Switching to Froged: The team is accessible. You can tell they are improving the tool. I have the option to create auto-messages based on user behavior and triggers.
Marketing & Advertising, 2-10 Employees
Used the Software for: 1+ year
Software to support my clients thats I can't do without
Comments: Love this software. I've tried other solutions but nothing as slick and multi-functional as this.
Pros:
Ease of deployment is so simple I can set up another location and get it up and running with a few tweaks and the provided code copied and pasted. The ease of use where it comes to using Froged to support my clients is fantastic. If I'm not at the computer I've got everything pushed through the mobile App so don't miss an instance. Knowledge base has got to be my favourite function though. So slick and easy to set up.
Cons:
I'd appreciate support of other video channels in the future fir the knowledge base. I want to host my own so my clients are looking at YouTube recommendations at the end of my help videos. This would also provide me with the ability to swap a video out without changing the URL in the knowledge base if I needed to.
Alternatives Considered: Freshdesk
Reasons for Switching to Froged: The modern fresh clean design and multi-function capabilities of it.