Who Uses StockTrim?
SMB's in Manufacturing, Wholesale, Distribution and Retail 10-20,000 SKU's
What Is StockTrim?
StockTrim is cloud-based demand forecasting and inventory planning software for SMB's (retailers, manufacturers, wholesalers, distributors).
Its based on smart technology including a proprietary machine learning (AI) algorithm that continually learns and re-adjusts demand models in real time
Key Features include:
Intuitive Order Plan
Detailed Demand Analysis
Manufacturing Features
Variable Lead Times
Multiple Locations
Ability to Forecast New Products
Automated Purchase Order Plans
StockTrim Details
https://www.stocktrim.com/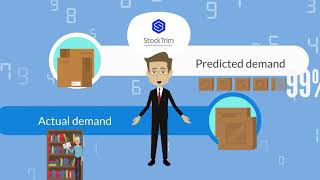 Play
StockTrim does not have a free version but does offer a free trial. StockTrim paid version starts at US$199,00/month.
---
StockTrim deployment and support
Support
Email/Help Desk
FAQs/Forum
Phone Support
Chat
Training
Live Online
Documentation
Videos
StockTrim Features
"What If" Scenarios
API
Activity Dashboard
Alerts/Notifications
Capacity Planning
Cost Tracking
Customizable Reports
Data Import/Export
Data Synchronization
Data Visualization
Demand Forecasting
Distribution Management
ERP
Forecasting
Historical Reporting
Inventory Management
Inventory Optimization
Inventory Replenishment
Inventory Tracking
Multi-Channel Management
Multi-Location
Order Management
Performance Metrics
Planned vs Actual Tracking
Planning Tools
Predictive Analytics
Product Introduction Planning
Project Planning
Promotions Management
Purchase Order Management
Real Time Analytics
Real Time Data
Replenishment Management
Reporting & Statistics
Retail Inventory Management
Sales Forecasting
Sales Orders
Sales Trend Analysis
Scenario Planning
Shipping Management
Status Tracking
Stock Management
Strategic Planning
Supplier Management
Supply Chain Management
Supply Forecasting
Third Party Integrations
Vendor Managed Inventory
Visual Analytics
Warehouse Management
API
Accounting Integration
Activity Dashboard
Alerts/Notifications
Barcode / Ticket Scanning
Barcode Printing
Barcode Recognition
Barcoding/RFID
Billing & Invoicing
Check-in/Check-out
Cost Tracking
Customer Database
Customizable Fields
Customizable Reports
Data Import/Export
Forecasting
Inventory Auditing
Inventory Management
Inventory Optimization
Inventory Replenishment
Inventory Tracking
Invoice Management
Item Management
Multi-Channel Management
Multi-Currency
Multi-Location
Order Management
Order Processing
Order Tracking
Point of Sale (POS)
Purchase Order Management
Purchasing & Receiving
Real Time Data
Real Time Reporting
Real-time Updates
Reorder Management
Reporting & Statistics
Reporting/Analytics
Retail Inventory Management
Returns Management
SKU/UPC Codes
Sales Orders
Sales Reports
Search/Filter
Serial Number Tracking
Shipping Management
Stock Management
Supplier Management
Third Party Integrations
Warehouse Management
API
Accounting Integration
Activity Dashboard
Alerts/Notifications
Barcode / Ticket Scanning
Barcode Recognition
Billing & Invoicing
Cost Tracking
Customer Database
Customizable Reports
Data Synchronization
Forecasting
Inventory Auditing
Inventory Control
Inventory Management
Inventory Optimization
Inventory Replenishment
Inventory Tracking
Invoice Management
Kitting
Manufacturing Inventory Management
Mobile Access
Multi-Channel Management
Multi-Currency
Multi-Location
Order Management
Order Tracking
Point of Sale (POS)
Product Identification
Purchase Order Management
Purchasing & Receiving
Real Time Data
Real Time Reporting
Real-time Updates
Reorder Management
Reporting & Statistics
Reporting/Analytics
Retail Inventory Management
Returns Management
Sales Orders
Sales Reports
Search/Filter
Shipping Management
Status Tracking
Stock Management
Supplier Management
Third Party Integrations
Vendor Managed Inventory
Warehouse Management
eCommerce Management