What Is Heyday?
The #1 messaging platform in retail, Heyday by Hootsuite combines the power of AI with the human touch for five-star customer experiences.
By automating up to 80% of FAQs, Heyday delivers personalized CX at scale 24/7, easily integrating with websites and 20+ apps. So your teammates close more sales, meeting customers on their top platforms, as Heyday connects customers across the globe with iconic brands like Lacoste, Decathlon, Kingfisher, Cirque du Soleil, Danone, Bestseller… and more.
Who Uses Heyday?
Heyday lets mid-market and enterprise retailers in cosmetics, fashion, fitness, food, and furniture stay open online 24/7, even when their physical stores close for the day, with the power of AI.
Where can Heyday be deployed?
Cloud, SaaS, Web-based, Android (Mobile), iPhone (Mobile), iPad (Mobile)
About the vendor
Hootsuite Media
Located in Vancouver, Canada
Founded in 2008
Phone Support
Chat
Countries available
Canada, France, United Kingdom, United States
About the vendor
Hootsuite Media
Located in Vancouver, Canada
Founded in 2008
Phone Support
Chat
Countries available
Canada, France, United Kingdom, United States
Heyday videos and images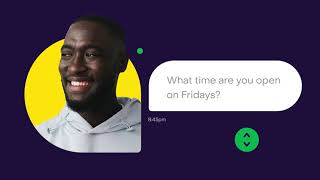 Compare Heyday with similar products
Features of Heyday
AI/Machine Learning
Alerts / Escalation
Alerts/Notifications
Appointment Management
Audience Targeting
Auto-Responders
CRM
Call Center Management
Campaign Management
Chat/Messaging
Chatbot
Code-free Development
Communication Management
Complaint Monitoring
Content Management
Customer Database
Customizable Branding
Dashboard
Data Import/Export
Data Visualization
Email Management
Feedback Management
Geotargeting
Human Handover
Landing Pages/Web Forms
Lead Capture
Lead Distribution
Lead Notifications
Lead Qualification
Lead Segmentation
Live Chat
Machine Learning
Mobile Access
Multi-Channel Communication
Multi-Channel Data Collection
Multi-Language
Natural Language Processing
Negative Feedback Management
Offline Form
One-to-One Messaging
Online Forms
Performance Metrics
Personalization
Pre-Configured Bot
Proactive Chat
Process/Workflow Automation
Queue Management
Real-time Consumer-facing Chat
Real-time Conversations
Reporting/Analytics
SMS Messaging
Sentiment Analysis
Support Ticket Management
Survey/Poll Management
Surveys & Feedback
Template Management
Text Analysis
Third Party Integrations
Transcripts/Chat History
Transfers/Routing
Virtual Assistant
Virtual Personal Assistant (VPA)
Website Visitor Tracking
Workflow Management
Erich S.
IT Director in US
Verified LinkedIn User
Health, Wellness & Fitness, 11-50 Employees
Used the Software for: 1-5 months
Excellent web chat application
Comments: I've enjoyed working with their team from the sales people to implementation specialists. They were all very patient and kind.
Pros:
I like how it works with Facebook Messenger so that regardless of if the user leaves the website, you can still have conversations with them.
Cons:
It doesn't currently work with inbound emails as a kind of 'ticketing system', which would be nice to have as a future feature.
Redouane B.
Head of Digital in Spain
Retail, 201-500 Employees
Used the Software for: 6-12 months
Alternatives Considered:
Great tool & great company
Comments: We are able to answer better than before to our customers.
Pros:
The connection of Facebook Messenger, Instagram, the messenger widget and Google My Business helped us so much. We could set up FAQ and we are now much more efficient than before. The impact on the customer satisfaction is huge. The Heyday team is incredibly nice and help us a lot in the implementation and evolutions.
Cons:
Could be better for e-mail connections (in term of UX). Autonomy can also be limited to make some changes (hopefully the team is always there to help)
Amel A.
CRC LEADER in Spain
Retail, 51-200 Employees
Used the Software for: 6-12 months
Review of a + 6 months use
Comments: I am saving so much time with all our channels and messenger pages + instagram
Pros:
Facilty to change channels and select agents,
Cons:
It is not fast enough, that little seconds wasted for loadig the pages
Curt V.
Manager Customer Support Department in Canada
Retail, 51-200 Employees
Used the Software for: 1+ year
Simple Intuitive Platform
Comments: Heyday as a company is populated by thoughtful, interactive employees. Whenever we have contacted them for any reason, they are extremely accommodating, responsive, understanding and collaborative.
They remain one of the best in this regard.
Pros:
Heyday is very easy and intuitive to use. It has a very nice user interface with minimal sleek features. This platform allows our clients to contact us on their preferred time schedule. The bot is able to reply to many basic questions, thus allowing our human agents the opportunity to work on more delicate/complex cases. The "price drop alert" feature is a favorite of ours as our particular website has a lot of fluctuation in pricing, this allows our clients to keep an eye on their desired purchases and buy them when the price is right!
Cons:
At the moment of adoption, the bot had some minor issues with understanding our clients questions, but as promised, through time and evolution, these issues disappeared. The data reporting could be more robust, but I do believe this is coming.
Guillaume S.
CEO in Canada
Farming, 2-10 Employees
Used the Software for: 1+ year
A key factor in our growth
Comments: We are Montreal-based indoor vertical farm than produces microgreens for the local foodservice industry year -round.
-Every week we deliver freshly harvested product to over 50 establishment in downtown.
-Integartion of Heyday Chat as enable to streamline and simplify order processing, which is extremely valua ble considering the highly-perishable nature of our product and the large amount of deliveries we make every week .
-Without it, we would not have been able to experience a rapid growth while maintaining a direct sale strategy, which we consider a key competitive advantage in our B2B market.
Pros:
Increase productivity by automating the ordering process while maintaining a personalized approach to customer service For our customer, simplify the restocking and respect of order deadline Facilitates customer awareness of new product launch; Facilitates customer feedbacks regarding service and product quality Increased value proposition of our indoor vertical farm concept we are developping As allowed to pursue sales growth through direct sale rather than third party distribution channels
Cons:
Dashboard could be a bit more user-friendly, but overall there's not much reason to complain