What Is Rocketseed Email Signatures?
The first-choice email signature management software for both marketers and IT professionals across the globe. Our professional email signatures, targeted interactive email banner campaigns and personalized legal disclaimers, transform every 1-to-1 email your business sends, into a branded, engaging and compliant marketing channel. Optimized for all major email platforms, including Microsoft 365, Google Workspace and Exchange, ensuring perfect display on every device every time.
Who Uses Rocketseed Email Signatures?
All companies from international enterprises to SMEs and start-ups can control, protect and promote their brand across every employee email with Rocketseed's scalable email signature solution.
Where can Rocketseed Email Signatures be deployed?
Cloud, SaaS, Web-based, Windows (Desktop)
About the vendor
Rocketseed
Located in London, UK
Founded in 2000
Phone Support
24/7 (Live rep)
Chat
Countries available
United Kingdom
Languages
Not provided by vendor
Rocketseed Email Signatures pricing
Starting Price:
US$1,00/month
Yes, has free trial
No free version
Rocketseed Email Signatures does not have a free version but does offer a free trial. Rocketseed Email Signatures paid version starts at US$1,00/month.
Pricing plans
About the vendor
Rocketseed
Located in London, UK
Founded in 2000
Phone Support
24/7 (Live rep)
Chat
Countries available
United Kingdom
Languages
Not provided by vendor
Rocketseed Email Signatures videos and images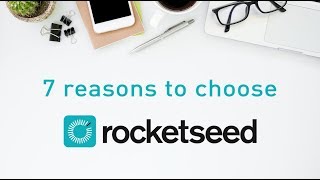 Features of Rocketseed Email Signatures
Campaign Specific Signature
Signature Creation
Signature Management
Signature Templates
Rocketseed Email Signatures Alternatives
Reviews of Rocketseed Email Signatures
Laura H.
VP of Marketing in US
Verified LinkedIn User
Computer Software, 11-50 Employees
Used the Software for: 2+ years
Amazing Product, Amazing Team
Pros:
In addition to their amazing product, Rocketseed has the most amazing customer success team. [SENSITIVE CONTENT HIDDEN] is the absolute best and goes above and beyond to make our lives easier. You won't find a better product or team to work with.
Cons:
It's a little difficult to add users, but their great support helps with that.
Rocketseed Response
2 years ago
Hi Laura, We are absolutely thrilled that you have such positive things to say about our Customer Success team. Please contact your Customer Success Manager and they will be more than happy to set up a call to revisit how to add new users.
Neil M.
Senior IT Analyst in US
Information Technology & Services, 51-200 Employees
Used the Software for: 6-12 months
Amazing Product and Support
Comments: Our experience with RocketSeed has been amazing. Everything from sales, implementation, account management, and technical support have been outstanding. One of my favorite things (being in IT) is that they listen to feedback and actually implement feature requests. RocketSeed's email signatures and banners now rank as our third highest website traffic generator and has become an integral part of our marketing stratedgy.
Pros:
RocketSeed has been very reliable, and we have not experienced any downtime. We were able to utilize Gsync to pull in our user directory from Google reducing our on-going maintenance. The signature designer and HTML editor are simple to use for both our IT and Marketing teams. It has the ability to schedule banners and signatures to automatically run within certain timelines. They have great report generators which give us insight into our campaigns. It also integrates with Google Analytics to generate even more insight.
Cons:
RocketSeed's documentation is lacking, but their support team makes up for it. The signature design preview on the site is not always 100% accurate, so it's best to test the signature using a variety of email clients to ensure it renders how you want.
Alternatives Considered: Exclaimer Cloud, Templafy and Opensense
Reasons for Switching to Rocketseed Email Signatures: It was a close call between RocketSeed and Exclaimer, in the end we went with RocketSeed because they were able to implement custom font's in our signature where as Exclaimer is limited to what they provide. OpenSense was also a consideration, but at the time did not have a great signature editor. Sigstr was decent, but is actually just built on top of the OpenSense platform which raised concerns about support capabilities.
Rocketseed Response
2 years ago
Hi Neil, We are happy to hear that you find our HTML editor simple to use. Our marketing campaigns are the "bread and butter" of our software and we're happy you are finding success with our campaign timelines functionality. We take your notes seriously and will do better with our documentation. We look forward to sharing our future updates with you.
Duygu Y.
Marketing Manager in UK
Legal Services, 2-10 Employees
Used the Software for: 2+ years
SR input
Pros:
Rocketseed support team is very helpful and speedy. I think that makes them stand out amongst others
Cons:
No problem with the aesthetics however the back-end could be more user friendly
Rocketseed Response
7 months ago
Thank you for the feedback. We are constantly updating our interface to make it more user friendly and are of course happy to give you a refresher on any specific areas you need. We have a great new help section too, and of course, your trusty Account Manager is never far away!
Lyle K.
Project Manager in Canada
Computer & Network Security, 11-50 Employees
Used the Software for: 1+ year
Affordable, Great Product
Pros:
Rocketseed support will do most have the setup and help configure it the way you need it setup. They are constantly working on new features and for Office 365 released a app to update the sent items for Outlook Less than half the cost of their competitor
Cons:
Sent Items Update is in Beta, would like to see some sort of mobile sent items update feature for Office 365, however I understand this is in the works with Microsoft
Kyle M.
Solutions Engineer in Canada
Information Technology & Services, 11-50 Employees
Used the Software for: 6-12 months
Rocketseed Review
Comments: The part thats great about Rocketseed is that they build a partnership with you. Its not a one and done kind of deal. They check up, they want to be apart of your influence, and they want to build with you. Not many organizations do that kind of partnership. That partnership, basically helps us decide to move forward leaving Exclaimer behind. And also with my role, incorporating it with re-selling O365.
Pros:
There approach is very much driven towards helping the end user/administrator deploy it. So you are not on your own reading documentation and or watching videos on how to set the product up. I would say it is not necessary as its not very complicated to set it up. But at the same time, there is a level of confidence I get when I am working with them on deployment. The next thing is, I don't have to design the signature. They do it for you, and work with you through the design of it and making sure everyone is happy. And the end result, everyone was pretty happy. Their support is easily accessible. Our other provider uses a ticketing system and takes a few tries to get it escalated to speak with someone. There response times are also very good.
Cons:
Its fairly specific to the cloud such as O365 and or GSuite. Which is great as most people are going there. Although we do have some clients who have On-Premise Exchange Servers we would like to deploy on that have the same features as you say Exclaimer does, such as showing up in the Sent Items. Although, its not a deal breaker, there just competing in the space where mostly everyone is moving towards.
Rocketseed Response
2 years ago
Hi Kyle, Thank you for taking the time to write a review. You are correct, Rocketseed prides itself on always being available to help and assist customers administer their account. We always offer a "refresh" in training at your request. Rocketseed has taken your review seriously and have noted what we could improve on. We look forward to sharing our new updates with you in the future.