What Is Spendesk?
Spendesk is the complete spend management platform that gives 100% visibility into company spend. With Spendesk, you get a 7-in-1 solution with corporate cards, invoice payments, expense reimbursements, budgets, approval, reporting, compliance, and pre-accounting in one simple, scalable solution. Trusted by thousands of businesses from start-ups to established brands, Spendesk is designed to save time and money across the entire spending process.
Who Uses Spendesk?
Spendesk offers smart spend management software for companies that need efficient, scalable processes. A perfect fit for businesses from 30 to 1000 employees.
Where can Spendesk be deployed?
Cloud, SaaS, Web-based, Android (Mobile), iPhone (Mobile), iPad (Mobile)
About the vendor
by Spendesk
Located in Paris, France
Founded in 2016
Phone Support
Chat
Languages
English, French, German, Spanish
About the vendor
by Spendesk
Located in Paris, France
Founded in 2016
Phone Support
Chat
Languages
English, French, German, Spanish
Spendesk videos and images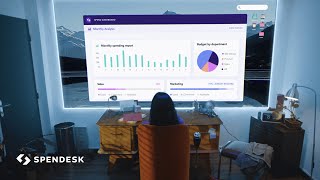 Compare Spendesk with similar products
Starting price
N/A
US$15,00/month
N/A
US$4,00/month
Mark L.
Director Business Planning in Germany
Verified LinkedIn User
Computer Hardware, 51-200 Employees
Used the Software for: 6-12 months
Great efficiency tool for small companies
Pros:
It greatly improves the purchasing workflow, all the way through to payments and accounting. It decentralises purchasing, while keeping control of the whole process with the decision makers. It's very intuitive to use - I never have to train new employees on Spendesk. The customer support level is the best I've ever seen, and they are constantly adding new features and improving the existing ones.
Cons:
It costs money. But compared to the employee time saved by using it, as well as the added value compared to manual processes, it's money very well spent.
Spendesk Response
3 years ago
Thank you Mark for your kind review. We are really happy to free you and your team from the hassle of paying at work!
Insurance, 11-50 Employees
Used the Software for: 6-12 months
Alternatives Considered:
Spendesk, l'incontournable de la digitalisation des notes de frais !
Pros:
J'apprécie la simplicité d'utilisation et le caractère intuitif de la solution. La soumission en quelques clics de factures est très souple, de même pour les notes de frais. La possibilité de créer des abonnements, de ne plus avancer de frais pour l'entreprise remplit complètement l'objectif premier de notre recours à Spendesk !
Cons:
Les extractions des écritures comptables ne nous permettent pas encore une intégration automatique dans notre logiciel de comptabilité.
Spendesk Response
8 months ago
Bonjour Julie, Merci beaucoup d'avoir pris le temps de nous laisser un avis, il sera tres utile aux autres entreprises a la recherche d'une solution comme la notre. Nous sommes ravis que Spendesk reponde a vos besoins, et que nos equipes vous aient accompagnee au mieux. Notre equipe produit travaille a ameliorer l'experience comptable et les exports afin que vous puissiez integrer vos ecritures comptables encore plus facilement. Vous serez tenue informee des nouveautes. Merci encore. A bientot, L'equipe Spendesk
Ferdinand S.
Marketing and Communications in US
E-Learning, 201-500 Employees
Used the Software for: 1-5 months
Improvements
Comments: Paying all over the US when travelling. Helps with keeping track of company expenses.
Pros:
Easy to mangae/upload your receipts when you are travelling.
Cons:
-Spendesk card doesn't work in many places (Trader Joe's for example) -With the app you can only take photos from receipts. It would be a great improvement if you could make a photo that recognizes the receipt (adapts the borders automatically) and that converts it to a pdf.
Spendesk Response
3 years ago
Dear Ferdinand, thank you for your review. The good news is our new mobile app will be launching soon, and includes a new feature to automatically crop receipt photos. Sorry to hear about the issues you had overseas, we've passed your comments on to our product team to investigate further.
Rozenn H.
Responsable comptable in France
Human Resources, 201-500 Employees
Used the Software for: 2+ years
Un très bon outils
Pros:
- La facilité d'utilisation pour les employés c'est une plateforme intuitive. - Le service client, toujours à l'écoute et la résolution de problème. - les changements positifs en terme de développement
Cons:
- certaines fonctionnalités ne sont pas très clairs comme les cartes d'abonnement aux verts alors qu'on vous indique qu'il n'y aura pas assez pour les couvrir. - les changements récurrent au niveau des dates prises en comptes (nous n'avons pas vraiment de points de repère visuellement entre la date de paiement et la date d'achat : notamment pour les NDF)
Christopher P.
Head of Finance in Germany
Construction, 11-50 Employees
Used the Software for: 1+ year
Sucess Story
Pros:
100% control over all teams and their spendings Easy to use via app or directly on the platform Streamlining of Cash-out Customization of fields for export incl. cost center logic
Cons:
Missing export file with images for German accounting software Datev
Spendesk Response
2 years ago
Thank you Christopher for your great review!