What Is Talkspirit?
Talkspirit is the #1 software for collaboration and team communication. It brings your employees together in a secure online workspace, wherever they are. By centralizing discussions, documents, events and collaborative features in one place, it makes your teams more productive. Available in 8 languages. On any device (PC, mobile, tablet). Easy to use. Free trial. Free plan. Paid plans from 4 / month per user. Designated leading software for remote-work and team communication by GetApp.
Who Uses Talkspirit?
Companies that need a best-in-class collaboration and communication software for their teams. SMBs, public institutions and associations. From 20 people to 10.000.
Talkspirit Details
Talkspirit
Founded in 2008
Talkspirit Details
Talkspirit
Founded in 2008
Talkspirit videos and images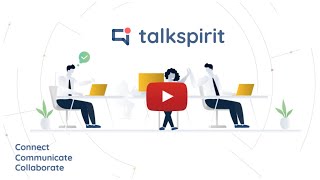 Compare Talkspirit with similar products
Starting price
€4,00/month
US$6,00/month
US$8,00/month
US$76,00/month
Talkspirit deployment and support
Support
Email/Help Desk
FAQs/Forum
Knowledge Base
Phone Support
24/7 (Live rep)
Chat
Deployment
Cloud, SaaS, Web-based
Mac (Desktop)
Windows (Desktop)
Linux (Desktop)
Android (Mobile)
iPhone (Mobile)
iPad (Mobile)
Training
In Person
Live Online
Documentation
Grégory N.
Technical Chief Officer in France
Verified LinkedIn User
Computer Games, 11-50 Employees
Used the Software for: 1-5 months
Alternatives Considered:
Talkspirit : the perfect tool for teamworking
Pros:
Customization options and integrated polls
Cons:
They save payment information but they delete them on demand.
Bastien M.
Community Manager in France
Verified LinkedIn User
Animation, 11-50 Employees
Used the Software for: 6-12 months
tool of excellence to organize in the work
Comments: We are very happy with the progress of our projects, and are more productive since the installation of talkspirit by our teams
Pros:
We have been using talkspirit for a few months now at "Chartreuse Gaming" and we are very happy with the result on the quality of our work. Morover talkspirit is available on different platforms, be it computer, tablet, phone, all are synchronized and allow to advance on are work any time in any place. We particularly like the conf'call that allow us to work despite the distance of our members and collaborators. We also like polls in positions to brainstorm or quickly agree on one point or another. Notifications are also very convenient to quickly update the progress of a project or other ...
Cons:
The only drawbacks may be the application that does not benefit from all the options available on the site talkspirit but I think the update will be soon
Stéphanie B.
Responsable qualité in France
Restaurants, 51-200 Employees
Used the Software for: 2+ years
Recommandation "Talkspirit"
Pros:
« Je recommande talkspirit , ce réseau social facile les échanges et améliore la collaboration entre les communautés au quotidien. Celui-ci permet à chacun de transférer des documents, de communiquer des informations divers, de faire progresser chacun dans son domaine, de partager des liens pour des réunions visio, de sonder les personnes,.. il permet de faire beaucoup de chose. Le fait d'être averti des nouvelles publications par mail est plaisant, nous ne pouvons rater aucune publication. Il est agréable et facile d'utilisation surtout pour les nouveaux qui arrivent sur le réseau. Merci à l'équipe de talkspirit pour ce réseau social ».
Cons:
Je n'ai pas de point faible à mentionner.
Florian V.
Chef de cabinet in France
Government Administration, 1 001-5 000 Employees
Used the Software for: 1+ year
Alternatives Considered:
Mise en place d'un réseau social pour l'inspection des ICPE
Comments: La plateforme Talkspirit nous a permis de créer un espace d'échange entre nos 1500 inspecteurs, afin que ceux-ci puissent partager leurs bonnes pratiques et leurs retours d'expérience sur des cas métiers spécifiques.
Pros:
- l'ergonomie et la facilité de prise en main pour nos utilisateurs - la qualité et la réactivité du support technique - le "made in France", y compris pour le stockage des données
Cons:
- la mise en place d'une telle plateforme nécessite un accompagnement managérial fort
Paul F.
Cofoundeur in France
Think Tanks, 2-10 Employees
Used the Software for: 1-5 months
Alternatives Considered:
Great product, great team !
Comments: Very nice ! All my users are pleased to use this tool (and they are all from tech industry)
Pros:
Beautiful and easy to use ! The team support is super nice !
Cons:
It can be difficult to get specific customization but there is always a way to get the job done !