Who Uses Todoist?
Personal and team productivity.
What Is Todoist?
Todoist is the world's #1 to-do list & task manager to organise your life and work. Regain clarity and calmness by getting tasks out of your head and into Todoist, no matter where you are or what device you use. It's a simple yet powerful to-do list app ranked best-in-class by Apple, Google, The Verge, Forbes, and more. Since 2007, over 25 million people have used Todoist to organize work and life, completing more than two billion tasks along the way.
Todoist Details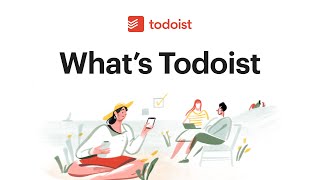 Play
Todoist pricing overview
Todoist has a free version and offers a free trial. Todoist paid version starts at US$36,00.
---
Pricing Details
Take on your biggest projects and goals with Todoist's smartest features.
Todoist deployment and support
Deployment
Installed - Mac
Cloud, SaaS, Web
Installed - Windows
Mobile - iOS Native
Mobile - Android Native
---
Review software
Share your experiences with other software buyers.
Write a Review!
Darien C.
Associate Pastor
Religious Institutions, 11-50 Employees
Used the Software for: 2+ years
Overall Rating

Ease of Use

Features & Functionality

Customer Support

Value for Money

Likelihood to Recommend
Reviewer Source

Reviewed on 2021/01/10
"Todoist is a powerful, intuitive to-do list application with many features & only a few flaws"
Comments: Overall, Todoist has been a life-saver, allowing me to simplify my work life and organize the numerous projects & tasks I have to juggle. While it can be complicated at times and lacks certain features I would love to see, it is the best project management app I've ever used, and I would sorely miss it if Todoist were to be shut down.
Pros: Todoist has simplified my work life - helping to organize all my tasks, projects, and meetings in a simple way that ensures no project is missed. While there is a bit of a learning curve to figure out how to best utilize & organize the platform, the simplicity of it's core features makes it easy for anyone to pick up and use. You are able to hop on their website or app and add a task in an instant; with the ability to schedule the due date, priority, and set it up in a specific project very quickly using their shortcuts. With their team collaboration features, you are also able to assign specific tasks to specific people, allowing for quick and ease collaboration and project management. Plus, Todoist offers numerous templates that help facilitate setup, and a very simple "Karma" rewards system that helps encourage use (and helps make you feel accomplished).
Cons: Todoist offers numerous systems, but unfortunately it can be a bit of a learning curve to learn all the shortcuts (especially when they change periodically) and an effective way to organize the projects & tags. As well, while they offer simple ways to import their templates and allow you to export templates of your own, they don't offer a simple cloud storage solution for those templates - so to load an exported template, you need to download it, keep it, and reupload it when needed. Lastly, they lack the ability to setup certain types of tasks; such as a task with subtasks that all repeat weekly - currently you can schedule them all to happen each week, but the subtasks end up getting listed as full tasks on the due date.
Reviewer Source

Reviewed on 2021/01/10
Zeynel A.
Mechanical Engineer
Mechanical or Industrial Engineering, Self Employed
Used the Software for: 6-12 months
Overall Rating

Ease of Use

Features & Functionality

Customer Support

Value for Money

Likelihood to Recommend
Reviewer Source

Reviewed on 2021/02/24
"One of the sofware I wish I had been used before"
Comments: I use Todoist for almost anything in my life. From managing complex project to editing watching, reading shopping list, to scheduling my workout plan to tracking my monthly progress and so on. I also use this software as a bookmark tool for something I need to watch, read or write later. It is like part of my life.
Pros: * It provides almost anything you expect from a productivity app.
* Not only does it help you to create or manage your task but it also motivate you with its feature of karma level.
* The feature of 2 way sync with Google Calendar is great. I can easily schedule my task and plan my day in a calendar, without even have to open Todoist. Being able to create new sub-calendar in your calendar for each project in Todoist, is even better.
* You can create sub-tasks in sub-task in a subs-task and so on. Moreover, for each sub-task, you can add due date, notes. And this feature is really precious while you working on complex project.
* Sorting and grouping features make task management more effective.
* There are shortcuts for almost all stuff. Just typing with keyboard, you can add task, set the due date and priority level and move it to any project. That makes editing projects even faster.
* There are board and list view options. It is really helpful while dealing with different types of projects.
* There are well-organized templates to create a project faster.
* You can create so many project and easily edit, sort, or group them.
* Scheduling options are more than enough. It is so powerful editing recurring tasks.
* Maybe some of the features require payment but I can't complain about it because it is not so expensive and it is effective enough without it premium feature.
Cons: * Although its 2-way sync with Calendars is really powerful, it would better if there was a calendar view option.
* Sometimes, there may be a sync problems with Calendar apps.
* I used to monitor multi-project in one screen. But I cannot do it anymore, after the new updates.
* There could be habit tracker option for recurring tasks .
Reviewer Source

Reviewed on 2021/02/24
Laura P.
Production Coordinator
Media Production, 2-10 Employees
Used the Software for: 6-12 months
Overall Rating

Ease of Use

Features & Functionality

Customer Support

Value for Money

Likelihood to Recommend
Reviewer Source

Reviewed on 2019/09/10
"Easy To Use, Not So Easy To Organice"
Comments: The founder of the company really likes it to keep track of what everyone is doing so I've been using it for the last 5 months (since I started in this company).
But anyway, I actually keep using the Notes App on Mac which is really similar to Todoist but I can keep my tasks private - which is something I wish I could do on Todoist, not sure if there is a way already but it's not very clear who can see what.
Pros: Me and my team really like how easy to use it is.
It helps keeping track of what needs o be done and lets other people know what's been completed.
It doesn't over complicate things and it's really good that you can have it on your phone and get updates on notifications.
Cons: I get that keeping it simple must be the main idea behind this app. However, I'd appreciate if some hierarchy could be applied when organising the tasks.
The way to organise projects on the left part could be, for example, group into folders so once a project is finished you could, for example, move it to an archive folder. All the Karma points system and the notifications is a bit confusing or just not clear enough. Is it just to cheer you up when you've completed many tasks or has it got any actual purpose? But the most important: I wish tasks wouldn't disappear from my inbox right when I complete them.
I wish I could still see them (maybe in a lighter grey colour) so I see what I've completed and then I could manually move them into a project folder when I don't want to see them anymore. Also, I'd appreciate if some type of colour coding could be applied in some way.
Reviewer Source

Reviewed on 2019/09/10
Alexandra T.
Project manager
Education Management, Self Employed
Used the Software for: 1+ year
Overall Rating

Ease of Use

Features & Functionality

Customer Support

Value for Money

Likelihood to Recommend
Reviewer Source

Reviewed on 2021/02/18
"Using todoist since student's years"
Comments: I have been using Todoist for a few years now.it makes my time management easier and more open to possible changes.I also greatly appreciated my last year's statistics of use, which arrived at the beginning of this year.
Pros: Allowance to plan far into the future is surely a great advantage of this software. Just as possibility of prioritization is, with possibilities to diferentiate with colours.
A great advantage of this software is tha I can use it all over my devices, my phone, macook, iwatch and ipad. That is also why i decided to try it out, as there are only few time-management softwares available on apple watch. Another great thing is that it allowed me to play freely even without paid subscription. I appreciated this a lot during my studenťs period of life.
I use Todoist every day.it is helpful for both my personal and work life.
Cons: Its unchangable colorful scheme. The red is somehow agressive, combined with contrastive white. Would surely appreciate to be able to change colours:) Even though it is great to plan some tasks in Todoist, I am unable to track my project development.I would surely appreciate a update Which would allow me to maybe create an individual calendar, in which I would plan on my doing of the project separately from other tasks. It is tiring to be using another software for this, when could there be only one. Another detail which I noticed at the beginning is a little bit unfriendly interface of Todoist. that is why I would not recommend Todoist to my older colleagues.there are many hidden functions, which I keep on discovering, which I would like to had known before, so that they could have been put to good use.
Reviewer Source

Reviewed on 2021/02/18
Norzihan I.
Recruiter
Telecommunications, 5 001-10 000 Employees
Used the Software for: 1+ year
Overall Rating

Ease of Use

Features & Functionality

Customer Support

Value for Money

Likelihood to Recommend
Reviewer Source

Reviewed on 2021/02/11
"Simple tools, but effective"
Comments: Staying focus on task in hand and know which task needed to be complete first help me to expedite my work load and keep everything is in order within the time frame. It has help with my time managing and i would love to recommend Todoist to every team to try it.
Pros: Using Todoist to managing daily task and to-do list and to automatically notify me of my pending task is very easy to do with this software. Todoist really simplifying my work process and letting me to planning my work and task for the next 7 days. Delegating task in project to my team members can be done simply by giving them access to the project.
Cons: I will be ineffective to execute a complex project with Todoist, as they are missing some critical project management feature like agile kanban board that i need for collaborating project cross department. The emojis in the chat is not necessarily useful and should be replace with other useful feature.
Reviewer Source

Reviewed on 2021/02/11