What Is My Music Staff?
**NEW: VIDEO LESSON INTEGRATIONS** My Music Staff is the #1 studio management software that automates the way you run your music studio. Schedule lessons, create invoices, record payments and more! If you're looking for a solution that has everything all in one place and saves you time and money, then your search stops here! Discover why more music teachers are choosing My Music Staff. Start your FREE 30-day trial today. Free unlimited phone & email support.
Who Uses My Music Staff?
Individual music teachers, and studios with multiple teachers, who need affordable, easy to use software, to manage the core aspects of their teaching business.
Where can My Music Staff be deployed?
Cloud, SaaS, Web-based
About the vendor
by Port 443
Located in Burlington, Canada
Founded in 2004
Phone Support
Chat
Languages
Not provided by vendor
My Music Staff pricing
Starting Price:
US$12,95/month
Yes, has free trial
No free version
My Music Staff does not have a free version but does offer a free trial. My Music Staff paid version starts at US$12,95/month.
Pricing plans
get a free trial
About the vendor
by Port 443
Located in Burlington, Canada
Founded in 2004
Phone Support
Chat
Languages
Not provided by vendor
My Music Staff videos and images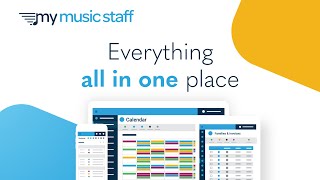 My Music Staff Features
API
Academic/Education
Activity Dashboard
Activity Tracking
Assessment Management
Assignment Management
Asynchronous Learning
Blended Learning
Built-in Course Authoring
Certification & Licensing
Certification Tracking
Compliance Management
Compliance Tracking
Content Library
Content Management
Corporate/Business
Course Authoring
Course Management
Course Tracking
Customizable Branding
Customizable Reports
Employee Portal
Gamification
Gradebook
Learner Portal
Learning Management
Learning Paths/Tracks
Mobile Learning
Multi-Language
Performance Metrics
Progress Reports
Progress Tracking
Reporting & Statistics
SCORM Compliance
Self Service Portal
Self-Learning
Single Sign On
Skills Assessment
Skills Tracking
Social Learning
Surveys & Feedback
Synchronous Learning
Talent Management
Tests/Assessments
Third Party Integrations
Training Management
User Management
Video Conferencing
eCommerce Management
eLearning Companies
ACH Payment Processing
API
Activity Dashboard
Attendance Management
Attendance Tracking
Automated Scheduling
Billing & Invoicing
Calendar Management
Calendar Sync
Class Management
Class Scheduling
Client Management
Client Portal
Communication Management
Credit Card Processing
Customer Accounts
Customizable Forms
Customizable Reports
Data Import/Export
Electronic Payments
Email Management
Email Reminders
Email Templates
Employee Management
Enrollments/Onboarding
Event Calendar
Event Management
Event Scheduling
Faculty/Staff Management
For Music Schools
Inventory Management
Invoice Management
Multi-Location
Online Payments
Online Registration
Parent/Student Portal
Payroll Management
Practice Log
Progress Tracking
Real Time Reporting
Recurring/Subscription Billing
Registration Management
Reminders
Repertoire Management
Reporting & Statistics
Room Booking
SMS Messaging
Scheduling
Self Service Portal
Student Management
Student Portal
Third Party Integrations
Transaction History
Website Integration
Matthew B.
Owner / Music Director in US
Verified LinkedIn User
Music, 2-10 Employees
Used the Software for: 2+ years
Couldn't run my music school without it
Pros:
It is extremely simple and easy to use. I only use the Students, Family and Calendar portions of it, and it serves well beyond what I need it for. So easy to view schedule and filter and organize it based on location, teacher, student, etc. i LOVE , as do the parents, the 24-hour in advance automatic reminders auto-texted or e-mailed (your choice).
Cons:
Besides a couple of very minor workflow impedances, it would be nice to integrate the calendar with an existing website, rather than only having the option to do so with the current website.
Alternatives Considered: Jackrabbit Music
Reasons for Choosing My Music Staff: Google Sheets became too cumbersome as our school grow, and I wanted something that the families/students could also access directly
Switched From: Google Sheets
Reasons for Switching to My Music Staff: Jackrabbit just didn't seem to fit as well as MyMusicStaff
Caitlin S.
Studio Owner and Teacher in US
Music, 2-10 Employees
Used the Software for: 2+ years
The Best Software on the Market
Comments: Excellent. I recommend them to all my friends who are also music teachers.
Pros:
Honestly, there are too many to list. Here are a few: the automation features in invoicing and scheduling save me hours of work, I love that I can have multiple teachers on a single account, I love the student portal and practice log feature.
Cons:
Any time I've felt that something could be improved upon I've written to the company and they've been very helpful every time.
Music, Self Employed
Used the Software for: 1+ year
A Wonderful Company and A Game Changing Service
Comments: I'm also deeply impressed with the customer service. The team has helped me more than once to solve problems I made myself, and they've done so with courtesy and speed. I'm grateful to them!
Pros:
My Music Staff was recommended to me by a fellow music teacher as a way to tame the chaos of running a music teaching business with separate billing, scheduling, and student management systems. Boy, was she ever right! Using MMS has upgraded my business dramatically and saved me so much time and energy. Students now access their Zoom links easily from within the student portal. Bills go out automatically and are paid without fuss (and parents prefer the automatic billing, too). I also love that I can build a library of online resources for my students and refer them to it rather than needing to send the same music and songs over and over again. Honestly, using MMS has been a total game-changer for me and I'd recommend it to any music teacher with 100% enthusiasm.
Cons:
It does take some time to learn the system and to input all of your students' info - but it's worth it.
Laurice V.
Managing Director in Ireland
Music, 2-10 Employees
Used the Software for: 6-12 months
Review
Comments: Overall it has been good. Customer Service is quite quick once you get matched with a member. The Support centre and Pinterest links and How-To's are done very well. Not the mention the lovely additional bits like Social Media Calendar and worksheets for the kids is so lovely! And helpful!
I really like using it every day personally and so do my Staff. But my students, not so much. It's only easy to use when you are using it for a couple hours a day like me, otherwise its a total mind field
Pros:
I like the amount of customisation. The calendar Sync. The website functionality and the Families & Invoicing section.
Cons:
It is not user friendly for the public. It is far too complicated for my business. For example if someone wants to sign up for a course they have to go through Student Portals. Log In. Emails. Setting it up. Saving it to the Homepage. Then they cant pay immediately they have to wait for an invoice and then log in again and finally enter their bank details. I am im discussions of discontinuing with this software. While it has great benefits for Admin it really is too complicated for the public and inviting new customers in. Therefore it is not for us in the long term.
Music, 2-10 Employees
Used the Software for: 6-12 months
My Music Staff review first year
Comments: I definitely have been having a great experience with My Music Staff. Especially their actual staff members. I spoke with [SENSITIVE CONTENT] recently and she did a phenomenal job at helping me fix my accounting issues and invoicing issues. She was very easy to talk to you she listened to my concerns and questions that I had and took time to teach me how to fix my accounting problems. I had several students accounts that had it inputs put in the wrong way for discounts etc. and she was able to quickly spot what the problems were as well as allow me the time to fix them and explain why not to do what I did before and how to properly and put the information I need to moving forward and why. I told her I think it would be nice if My Music Staff will give her a bonus to make videos on how to create invoices and teaching users how to utilize accounting and how all of the features work together to help balance out the accounting page and create invoices all of the ends and outs! She would be great at that as well!
Pros:
It's really kind of hard to pinpoint what specifically I like because there's a lot of features that I do like such as being able to schedule, pull reports, upload videos for our students, upload link sent of the learning material for our students, payroll etc
Cons:
I don't like that I'm not able to use PayPal and stripe at the same time to except payments. I do have parents who like to pay through PayPal as well but I have to utilize a different source to receive those payments because only stripe or PayPal can be used one at a time. I wish that it was also a lot easier to understand how to utilize the invoice an account features. I have gotten pretty confused and had to call in and ask questions several times in order to really get the hang of it. It can be a bit confusing without that additional coaching to understand how to bill clients. I've had moments where my numbers were off because I gave an additional discount or I build them incorrectly and didn't understand how I did it or why.
Port 443 Response
4 months ago
Hi Irma, thanks for a great review! We actually do have a number of tutorial videos already, including ones that go over various parts of invoicing. We also have a Getting Started Guide on our website that goes over how all of the features work together :)