What Is GetFeedback?
With GetFeedback for Salesforce, you can automatically collect customer feedback at critical touchpoints in the customer journey. Pull more context into your surveys then push feedback into Salesforce so you can measure valuable customer metrics like NPS, CSAT, or CES and take intelligent action to improve your customer experience. GetFeedback customers see a 240% increase in response rates and 7x faster implementation than other cx survey platforms.
Who Uses GetFeedback?
Global brands trust GetFeedback and Salesforce for real-time insights into the health of their customers.
Where can GetFeedback be deployed?
Cloud, SaaS, Web-based
About the vendor
SurveyMonkey
Located in San Mateo, US
Founded in 2009
Phone Support
Chat
About the vendor
SurveyMonkey
Located in San Mateo, US
Founded in 2009
Phone Support
Chat
GetFeedback videos and images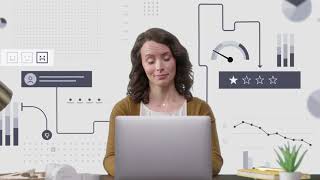 Compare GetFeedback with similar products
Features of GetFeedback
API
Activity Dashboard
Activity Tracking
Alerts/Notifications
CES Survey Structure
CRM
CSAT Survey Structure
Campaign Management
Chat/Messaging
Complaint Monitoring
Customer Database
Customer Experience Management
Customer Journey Mapping
Customer Segmentation
Customizable Branding
Customizable Forms
Customizable Templates
Dashboard
Data Import/Export
Data Visualization
Email Management
Email Marketing
Engagement Tracking
Feedback Management
Mobile Survey
Multi-Channel Communication
Multi-Channel Data Collection
Multi-Channel Distribution
NPS Survey Structure
Negative Feedback Management
Offline Response Collection
Performance Metrics
Process/Workflow Automation
Pulse Surveys
Question Branching
Question Library
Randomization
Reporting/Analytics
SMS Messaging
Sentiment Analysis
Skip Logic
Survey Builder
Survey/Poll Management
Surveys & Feedback
Template Management
Text Analysis
Third Party Integrations
Trend Analysis
URL Customization
Visual Analytics
Megan B.
Banking Officer in US
Verified LinkedIn User
Banking, 1 001-5 000 Employees
Used the Software for: 1-5 months
Alternatives Considered:
Excellent survey tool for client and user experience
Comments: Very positive! Customer service is always responsive and helpful, and we've been able to deploy several CX surveys because of this tool.
Pros:
I love the question templates and the ability to customize them based on your survey needs. The platform also offers great background and theme options
Cons:
I wish there was a way to include incomplete responses in the summary results without having to export them.
Chandler K.
Marketing in US
Verified LinkedIn User
Human Resources, 11-50 Employees
Used the Software for: Free Trial
Alternatives Considered:
GetFeedback is the premier tool for Salesforce friendly NPS and customer satisfaction monitoring
Comments: We have only used the free trial, but we will be continuing on to purchase the product so that we can monitor future customers during the sales process and understand areas that need improvement.
Pros:
GetFeedback has a robust design interface that makes it incredibly easy to design stunning, simple feedback surveys. Best of all, it integrates seamlessly with Salesforce and can be automated with corresponding triggers. GetFeedback offers multiple types of surveys to gather feedback, not just a basic 1 through 10 scale.
Cons:
It doesn't fully integrate with some of the other applications we use, but these are fairly specific tools and some do not even have open APIs.
Verified Reviewer
Marketing Manager in US
Verified LinkedIn User
Sporting Goods, 10 000+ Employees
Used the Software for: 2+ years
GetFeedback is used for collecting customer feedback
Comments: In addition to hearing from our customers about the new features they enjoy or dislike on our website, we can determine the needs and questions they have. We can also contact customers who have opted to receive email responses from us. On this basis, we will be able to conduct an inquiry with those individuals who wish to contribute to the enhancement of the website's content and functionality.
Pros:
I appreciate how easy it is to create attractive surveys and how quickly they can be sent once they have been created. Because of the survey builder's user-friendliness and the numerous options for enhancing their appearance with images, textures, and colors, my surveys come out looking fantastic. The integration process with Salesforce is straightforward, and as a result, I can display the results of my survey on any object. GetFeedback also has an excellent email template builder that allows users to create email templates with a question embedded directly into the email. GetFeedback can also obtain a list of Contacts from Salesforce to distribute surveys. The use of email templates is not the sole option available. I can create surveys that are distributed via short message service (SMS), embed them on a website or Salesforce Community, and even have them appear after a chat session, all within a couple of minutes.
Cons:
It has a slightly higher price tag than some of the other alternatives, but the enhanced features and capabilities more than justify the premium. Occasionally, the survey builder did not provide us with the exact design element or logic we required; however, I believe this is to be expected from any builder that requires you to complete the work on your own.
Verified Reviewer
Marketing Automation Project Manager in Spain
Verified LinkedIn User
Information Technology & Services, 51-200 Employees
Used the Software for: 1-5 months
Source: GetApp
Easy-to-use but extremely expensive
Comments: Overall experience is goot. It serves the purpose, it's really easy to implement and the surveys look really professional! On the other hand, price with Salesforce integration is massive, designs are not that customisable and you need to stick to the predefined options to build the surveys.
Pros:
Getfeedback is a feedback platform owned by SurveyMonkey. It's main advantage from its competitors is that it has a native connector to integrate it to Salesforce. It's very easy to set-up the connector and start collecting surveys from contacts and push the information collected to Salesforce. Surveys are really easy to be set-up and the look great! Almost all the options are predefined options (Drag&Drop) so you cannot customise it 100% but don't need a technical profile to create them, which is great!
Cons:
Very expensive if you want to have the Salesforce connection. Also I think the customisation of the surveys is a bit poor, there should be an option to edit CCS, HTML, etc. Also a bit more of flexibility on the CTAs and the kind of questions you want to include in your surveys would be much appreciated!
Jordan C.
Salesforce Product Manager in France
Verified LinkedIn User
Information Technology & Services, 501-1 000 Employees
Used the Software for: 6-12 months
Alternatives Considered:
Best Survey tool for Salesforce
Pros:
GetFeedback allows us to create Survey very easily and quick. There is a ton of features like customized path for each question, multilanguage and the best : Salesforce Integration! Salesforce Integration from GetFeedback is really easy to use and fully customizable. You can set-up everything from GetFeedback and reload easily integrations errors. Love it !
Cons:
GetFeedback business model is quite expensive, hard to afford for many businesses.