Who Uses Wimi?
Wimi is an optimal choice for teams and companies that manage projects and want to boost productivity. Over 50,000 businesses use Wimi daily: SMBs, freelance, NPOs as well as large companies.
What Is Wimi?
Wimi is a complete digital collaboration toolbox that helps you stay organized and make teamwork more efficient. Wimi goes beyond typical collaboration software as it includes messaging channels, files & drive, tasks, calendars and video conferencing. Wimi lets your entire team collaborate effortlessly and work smarter together. Thanks to Wimi refined access-right management, you can also bring your clients on board and share specific data with them.
Wimi Details
https://www.wimi-teamwork.com/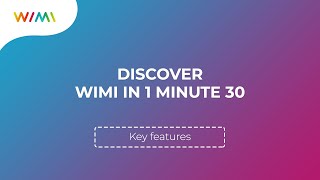 Play
Wimi pricing overview
Wimi has a free version and offers a free trial. Wimi paid version starts at US$9,00/month.
---
Wimi deployment and support
Support
Email/Help Desk
FAQs/Forum
Knowledge Base
Phone Support
Chat
Deployment
Cloud, SaaS, Web-based
Mac (Desktop)
Windows (Desktop)
Windows (On-Premise)
Linux (On-Premise)
Android (Mobile)
iPhone (Mobile)
iPad (Mobile)
Training
In Person
Live Online
Webinars
Documentation
Videos
---
Review software
Share your experiences with other software buyers.
Write a Review!
Franck C.
Webmaster / Web Developpeur since 10 years
Design, Self Employed
Used the Software for: 2+ years
Overall Rating

Ease of Use

Features & Functionality

Customer Support

Value for Money

Likelihood to Recommend
Reviewer Source

Reviewed on 2018/08/29
"Wimi will soon become the world's number one ?! Read on and you will understand why."
Comments: I have been a full-stack Webmaster for 10 years. I use Wimi for 2 years and believe me, Wimi has changed my productivity in just a few days .. A real revolution!
Exceptional ease of use and I weigh my words! for having tried his 3 main competitors - complicated or obscure interfaces ... without comments.
Wimi knew how to use our collaborative working software our natural habits of use of our computer.
This has the enormous advantage of not having to learn for days how a new software works.
Wimi is as easy to use as when the very first iPhone came out in the world of telephony!
Everything is intuitive and rich in features! Do like me be productive, organized with disconcerting ease! Save time, win your employees, customers and partners by using Wimi, the next-generation software that brings professionals from all over the world together in a central location and in a real office.
The success of your projects and those of your clients and partners only depends on your curiosity to test Wimi free for 14 days. So do not wait!
It is by testing a product that one really makes one's efficiency, not letting it absorb through cleverly constructed advertisements.
Tesla, Total, Sephora, Shazam, SNCF, Publiciseto use Wimi, you know why?
Test Wimi 14 days for free and you will understand why for yourself! ;-)
It integrates OneDrive, Dropbox, Box Google Drive, Skype, Zapier etc.
A huge congratulations to the developers and the CEO who had the idea of this French innovation
Pros: All "real" professionals use team tools to collaborate effectively and maximize their time. Team work. Effective. Powerful. Organized.
Wimi is THE solution! To achieve this organizational excellence, the choice of the tool is absolutely crucial.
To boost your productivity easily with confidence and without having to spend hours or days training on software often too complicated or a gas plant that ultimately causes the opposite effect and wasting time. With Wimi it's the opposite! :-)
Make the "intelligent" choice of formidable efficiency without any compromise!
A very powerful tools, suitable for all! Freelances, freelancers, communication agencies, small and medium-sized companies and companies listed on the Cac 40!
Cons: For the moment I have not noticed any inconvenience.
I just wish to see these improvements happen soon .. I hope ;-) - The ability to create shortcuts for files, URLs, or folders (as on computer) to duplicate information from one project to several others. - the ability to drag and drop a URL into the Wimi window that will automatically create the URL link and automatically retrieve the title and be visible in Wimi Drive! - View the acknowledgment of reading Chat messages on mobile smartphone, tablets and in the browser of a computer when the correspondent read our message while he read our message on mobile. - The drawing board: drawing and commenting our drawings to illustrate ideas and store the different drawings in thematic folders.
Reviewer Source

Reviewed on 2018/08/29
Alexandre A.
Chargé Marketing/Grands comptes/S.I.
Mechanical or Industrial Engineering, 11-50 Employees
Used the Software for: 1+ year
Overall Rating

Ease of Use

Features & Functionality

Customer Support

Value for Money

Likelihood to Recommend
Reviewer Source

Reviewed on 2021/07/08
"Wimi : déjà très grand, encore quelques efforts pour être le meilleur !"
Comments: Wimi est une des solutions les plus robustes, complètes et administrables du marché. Et à un prix correct !
Il regroupe les fonctions de Slack, Teams, Trello, Exchange etc dans la même interface, tout en gardant nos données en sécurité.
Nous l'avons adopté comme un drive, puis comme un outil de communication, et enfin pour la gestion de projets.
Encore besoin de certaines améliorations et corrections "basiques" (attention à ne pas les faire passer derrière des fonctions plus "gadget") pour améliorer son ergonomie, et Wimi sera définitivement au top !
Pros: Wimi se distingue par son format et sa lisibilité, ce qui est essentiel malgré le large panel de fonctionnalités. Ces dernières justement, couvrent de très larges besoins grâce à sa gestion des tâches, des calendriers partagés, visio, édition de fichier en ligne, et bien d'autres encore. Pour nous, Wimi est d'abord un Drive avec communication intégrée (channels, chats et commentaires sur les dossiers/fichiers), qui nous permet de noter plein d'informations que nous ne partagions qu'oralement et que nous n'arrivions pas toujours à retrouver. Il nous fait aussi gagner du temps en diminuant les mails ou appels qui n'étaient pas essentiels. Parmi l'offre pléthorique des logiciels collaboratifs, de gestion de projets, de "drives" et autres chatOPs, Wimi se distingue aussi par son côté complet, centralisé, administrable et souverain. L'équipe technique/commerciale est à l'écoute des besoins et des avis clients, et peut vous guider si besoin.
Cons: Certaines fonctions ou corrections de base ne semblent pas prioritaires, et pourtant, elles sont encore un frein à l'adoption de Wimi par tous.
1. Gestion des notifications dans Desktop (app et webapp) est à revoir. Seul le chat/channel/commentaire émet une notification "push", mais pas les tâches, événements, réunions et autres. Il faudrait aussi 3 niveaux de notifs (à choisir par l'user) : sourdine, pastille sur l'espace, notifs push. Cela permettrait de mieux prioriser les projets importants et les secondaires.
Le choix de privilégier des alertes par mail font sortir de Wimi, qui est censé passer devant Outlook pour notre travail collaboratif. 2. La navigation dans Desktop pourrait aussi se rapprocher des dossiers Windows classiques (clic sur le fichier -> ouverture directe via Wimi Drive), ne pas être obligé de cliquer sur le nom d'un fichier/dossier pour l'ouvrir (un clic juste à côté ouvre les paramètres du fichier/dossier). 3. Channel : possibilité pour l'admin ou l'auteur d'un msg de l'épingler, pour lui donner + d'importance (c'est complémentaire avec la fonction "favoris" où ce sont les utilisateurs qui choisissent). 4. Outlook connector : les réunions et tâches sont intégrées à l'agenda Wimi mais n'apparaissent pas dans Outlook. 5. Module réunion : pas possible de modifier l'horaire d'une réunion 6. App Android :
- Avoir plus de possibilité concernant les fichiers (pouvoir les renommer, gérer les accès, etc etc).
- Prévisualisation d'un fichier ne marche pas.
Alternatives Considered: Mattermost, Flock, Slack, Chanty, Twist, Microsoft Teams, Workplace by Facebook, Talkspirit, Trello and Confluence
Reasons for Switching to Wimi: Plus complet que tous les autres, tout simplement. Souverain. Prix correct.
Reviewer Source

Reviewed on 2021/07/08
Henry R.
Gérant
Professional Training & Coaching, 2-10 Employees
Used the Software for: 6-12 months
Overall Rating

Ease of Use

Features & Functionality

Customer Support

Value for Money

Likelihood to Recommend
Reviewer Source

Reviewed on 2020/12/02
"Un logiciel pas mal mais une politique commerciale indigne"
Pros: WIMI fonctionne et fait correctement ce qu'il annonce. C'est donc une bonne solution "tout en un" à condition de ne pas être trop exigeant sur chacun des aspects du tout.
Cons: WIMI adapte votre facturation à la hausse lorsque vous rajoutez un utilisateur, mais pas à la baisse lorsque vous en enlevez un. Du coup, vous continuez à payer plein pot pour tous les ex-utilisateurs de la plateforme qui n'y sont plus. Une véritable arnaque.
Vendor Response
by Wimi on 2020/12/03
Bonjour Henry. Merci pour votre feedback. Je comprends tout a fait votre frustration. Le comportement que vous evoquez n'est pas volontaire. Nous avons d'ailleurs fait le necessaire pour que l'ajustement se fasse automatiquement en fonction de votre consommation a partir de Janvier 2021. En attendant cet ajustement, nous vous offrons 1 mois gratuit sur la plateforme. Votre CSM prendra contact avec vous dans les jours a venir. Au nom de toute l'equipe je vous prie de bien vouloir nous excuser pour ce desagrement. Bien cordialement.
Reviewer Source

Reviewed on 2020/12/02
Jean M.
Directeur Conseil
Management Consulting, 10 000+ Employees
Used the Software for: 2+ years
Overall Rating

Ease of Use

Features & Functionality

Customer Support

Value for Money

Likelihood to Recommend
Reviewer Source

Reviewed on 2021/07/08
"WIMI"
Comments: Cela fait plus de 5 ans que nous proposons à tous nos clients de partager les documents
c'est un véritable service supplémentaires
Pros: J'apprécie la simplicité pour créer un nouvel utilisateur. On peut distribuer très simplement des droits d'accès sur les répertoires. Tous les invités sont gratuits et pour une société de conseil cela permet à tous nos clients d'avoir accès à ce service.
Cons: L'installation du wimidrive nécessite des droits administrateur
Alternatives Considered: Dropbox Business
Reasons for Switching to Wimi: des fonctions supplémentaires de gestion de projet
Reviewer Source

Reviewed on 2021/07/08
Julien H.
Fondateur
Internet, Self Employed
Used the Software for: 1+ year
Overall Rating

Ease of Use

Features & Functionality

Customer Support

Value for Money

Likelihood to Recommend
Reviewer Source

Reviewed on 2021/07/08
"Un outil utile au quotidien et simple"
Comments: Un vrai multi-outils simple et pratique pour le quotidien d'un professionnel pour gérer les relations en équipe ou avec le client.
Pros: Un outil qui propose beaucoup de solutions utile au quotidien (prise de rendez-vous, suivi de projet, stockage de document, organisation de visio).
Cons: Il serait intéressant d'ajouter des intégrations avec d'autres outils comme le calendrier google.
Un compteur de temps est disponible par tâche mais pas de compteur global pour facturer un client par exemple.
Reviewer Source

Reviewed on 2021/07/08