Software Asset Optimization
Who Uses Software Asset Optimization?
License administrators, engineering managers, and business analysts
What Is Software Asset Optimization?
SAO enables you to visualize and analyze global software inventories and utilization rates across facilities, divisions, departments, and users.
With SAO, it's easy to pinpoint underutilized assets for better business planning and forecasting. Because we have deep domain expertise in not only HPC but also business analytics and software licensing systems, Altair is uniquely qualified to offer powerful SAO solutions tailored to the unique requirements of each organization.
Software Asset Optimization Details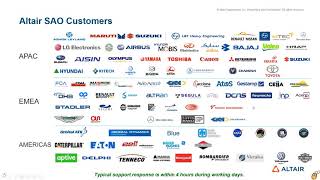 Play
Software Asset Optimization deployment and support
Software Asset Optimization Features
API
Access Controls/Permissions
Activity Dashboard
Activity Tracking
Alerts/Notifications
Asset Management
Asset Tracking
Audit Management
Audit Trail
Barcode / Ticket Scanning
Change Management
Compliance Management
Compliance Tracking
Configurable Workflow
Configuration Management
Contract/License Management
Cost Tracking
Customizable Branding
Customizable Fields
Customizable Forms
Customizable Reports
Dashboard Creation
Data Import/Export
Data Visualization
Email Management
IT Asset Tracking
Incident Management
Inventory Management
Inventory Tracking
Knowledge Base Management
Maintenance Management
Maintenance Scheduling
Monitoring
Prioritization
Problem Management
Procurement Management
Real Time Reporting
Reporting & Statistics
Reporting/Analytics
Requisition Management
Role-Based Permissions
Self Service Portal
Service Level Agreement (SLA) Management
Supplier Management
Support Ticket Management
Support Ticket Tracking
Task Management
Third Party Integrations
User Management
Workflow Management
API
Access Controls/Permissions
Activity Dashboard
Activity Tracking
Ad hoc Reporting
Alerts/Notifications
Approval Process Control
Asset Management
Audit Management
Audit Trail
Barcode / Ticket Scanning
Categorisation/Grouping
Compliance Management
Configuration Management
Contract/License Management
Copy Protection
Cost Tracking
Customizable Fields
Customizable Reports
Data Import/Export
Historical Reporting
IT Asset Tracking
Inventory Management
Inventory Tracking
License Inventory
License Tracking
Monitoring
Node Management
Packaging Software
Portable License
Product Activation
Purchase Order Management
Real Time Data
Real Time Monitoring
Real Time Notifications
Real Time Reporting
Reporting & Statistics
Reporting/Analytics
Risk Assessment
Role-Based Permissions
SSL Security
Self Service Portal
Subscription Management
Third Party Integrations
Transaction History
Trial License
Usage Tracking/Analytics
User Management
Vendor Management
Workflow Management